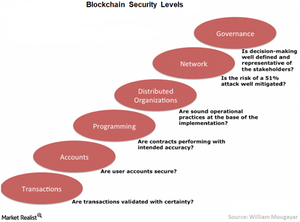 How Blockchain Technology Could Reduce Criminal Activities
VanEck
Are you worried about criminal activity and the notion of untraceable currency?
Any widespread criminal activity is cause for concern. However, immutable, transparent, publicly accessible data records (blockchains) are one of the most attractive features of digital currencies.
The vast majority of digital currencies leave traceable data-crumbs on the web, with some explicitly designed for traceability. The recent dark market busts (AlphaBay, Hansa, and Silk Road) can be directly tied back to the traceability of digital currencies and the breadcrumbs criminals left. Shutting down dark markets is a much more difficult task in a cash-only economy.
Article continues below advertisement
Market Realist
Blockchain has multi-layered security
Digital currencies (UUP) (FXE) such as bitcoin, Ethereum, and others are fully traceable. That means digital transactions on the technology (SOXX) (SOXL) platform can be easily detected. There is no privacy for transactions on a public blockchain. For example, a bitcoin (ARKW) address for a transaction on the exchange is easily identifiable, and the exchange can use the address to track all the user's future transactions.
Secure system
A public blockchain is a decentralized system where users can view and access transactions. The valid transactions are recorded in the distributed ledger. Such transactions recorded on the blockchain platform are immutable, which means they cannot be deleted or modified. That characteristic helps develop trust among users as it guarantees integrity of the data.
Before updating data on a blockchain, users must agree about the veracity of the transaction through a process called consensus. The transaction updated by this process is called a block. The next transaction or block is then added to the chain, thus providing a proper sequence of transactions. Even if you update past records, the original transaction remains in the system. You can thus see the ownership of the transaction and how it has changed over a period of time. Such a transparent and multi-layered security system could help reduce criminal attacks on the platform to a large extent.