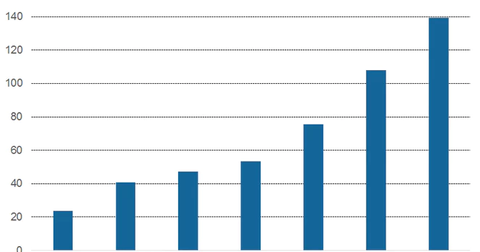 Behind Nokia's and Huawei's Patent Licensing Agreement
By Adam Rogers

Updated
Smartphone patent licensing agreement
Nokia (NOK) has reportedly signed a multiyear smartphone patent licensing deal with peer firm and competitor Huawei. China's (FXI) Huawei and Nokia have not divulged the financial details of the agreement, but Nokia expects sales in 4Q17 that will include a non-recurring catch-up payment.
Nokia now has licensing agreements with all major smartphone manufacturers, including Apple (AAPL), Samsung (SSNLF), Xiaomi, and LG.
Article continues below advertisement
Nokia's patent licensing technology reduces the need for hardware components in a smartphone and helps to conserve battery life. Although Nokia generates a majority of its revenue from the networking business, the company is now focusing on the profitable licensing space. Incremental licensing revenue will help Nokia offset declines from a soft telecom market.
In 3Q17, Nokia relied on its patent licensing business, Nokia Technologies, to offset the weakness in its core Networks division. Nokia Technologies sales rose 37% YoY (year-over-year) to 483 million euros in 3Q17.
A report from 4-traders has Mikael Rautanen, an analyst from Inderes stating the following: "It's a significant deal because Nokia now has agreements with all the big phone makers…The network market will remain tough, but the growing patent revenue will compensate for it."
Inderes research has a "buy" rating on Nokia.
Rautanen has estimated Nokia to generate annual revenue of 250 million euros from the Apple deal, while the projected revenue from Huawei might be approximately 100 million euros, with a significant catch-up payment.
Huawei is the third largest smartphone manufacturer
Huawei is now the largest telecom equipment firm (by revenues) and the third-largest smartphone manufacturer. Notably, Huawei's smartphone shipments crossed the 100-million mark for the first time in calendar 2015 and rose to almost 140 million in calendar 2016.
While smartphone shipments rose 2.3% YoY in 2016, Huawei's shipments rose 30.2% YoY.