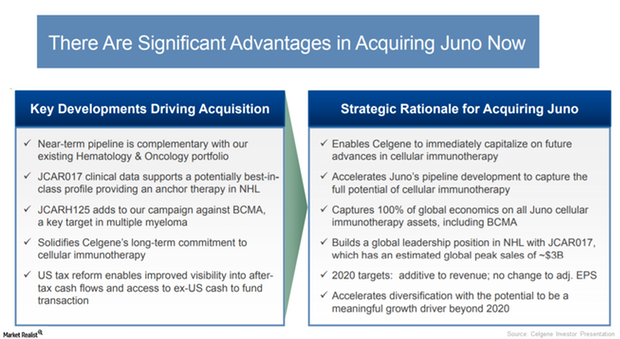 Behind Celgene's Strategy in the Juno Therapeutics Acquisition
By Daniel Collins

Jan. 24 2018, Updated 2:35 p.m. ET
Celgene's Strategy
With the acquisition of Juno Therapeutics (JUNO), Celgene (CELG) will likely become an established cellular immunotherapy company.
The acquisition of JUNO will also likely lead to the acceleration of its pipeline development toward reaching a fuller potential of cellular immunotherapy. Right now, Juno's JCAR017 is in the pivotal stage of its clinical trial, with a favorable profile in diffuse large B-cell lymphoma (or DLBCL).
Juno's JCAR017, if approved by the regulatory authorities globally, is expected to generate ~$3.0 billion in peak sales. The approval of JCAR017 will thus likely strengthen Celgene's lymphoma portfolio.
Notably, in January 2018, the FDA (US Food and Drug Administration) has accepted Novartis' (NVS) supplemental Biologics Application for Kymriah, a CAR-T therapy for relapsed or refractory DLBCL, and granted a priority review.
Article continues below advertisement
Juno Therapeutics' assets
Juno Therapeutics' assets also include JCARH125, a CAR-T therapy targeting multiple myeloma. Right now, Juno Therapeutics is conducting its phase-1 trial with JCARH 125 for multiple myeloma.
JUNO's various other cellular therapy assets in proof-of-concept trials for hematologic and solid tumors should further strengthen Celgene's clinical trial pipeline. With the acquisition of JUNO, Celgene will be able to capture 100% global economies on all Juno Therapeutics' cellular immunotherapy assets.
With the acquisition of Juno Therapeutics, Celgene will gain the novel and scalable CAR-T manufacturing facilities of Juno Therapeutics. Juno's relationships with leading immunotherapy research centers should thus likely benefit Celgene over the long term.
Some notable companies developing CAR-T cell therapy for addressing various cancers include Bluebird Bio (BLUE), ZioPharm (ZIOP), and Novartis (NVS). Notably, the Health Care Select Sector SPDR Fund (XLV) invests ~2.4% of its total portfolio holdings in Celgene.