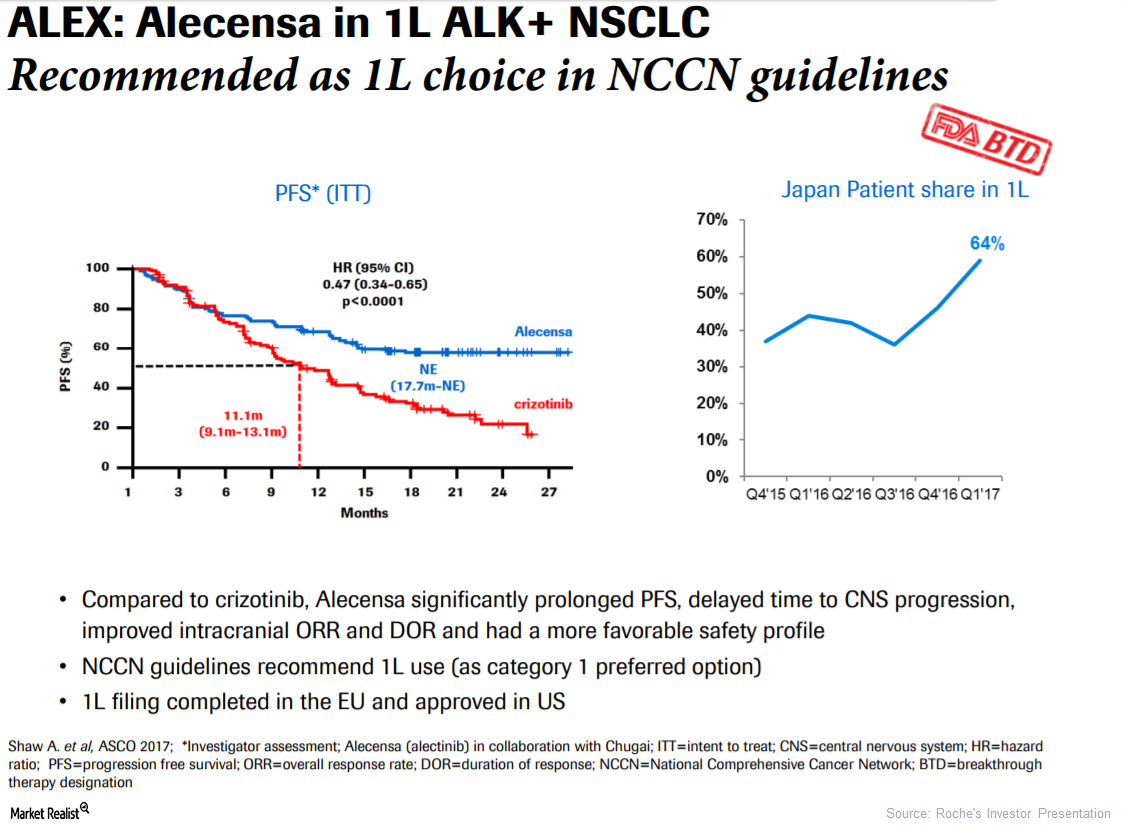 Approval of Alecensa in Europe Could Boost Roche's Revenue Growth
Recent approval
In December 2017, the European Commission (or EC) approved Roche's (RHHBY) Alecensa (alectinib) as a monotherapy for the first-line treatment of individuals with anaplastic lymphoma kinase ALK-positive advanced NSCLC (non-small cell lung cancer). In 1Q17, 2Q17, and 3Q17, Roche's Alecensa reported revenues of 68 million Swiss francs, 80 million Swiss francs, and 96 million Swiss francs, respectively.
Article continues below advertisement
Article continues below advertisement
ALEX trial
The EC approved Alecensa based on the results of the phase three ALEX trial. In the trial, Alecensa demonstrated a significant reduction in the risk of the disease worsening or death by 53% compared to crizotinib. In the phase three ALEX trial, Alecensa also demonstrated a reduction in the risk of tumors spreading to the brain or central nervous system by 84% compared to crizotinib.
During the trial, patients on Alecensa demonstrated median progression-free survival of 25.7 months, as evaluated by the Independent Review Committee compared to 10.4 months for patients on crizotinib.
Alecensa's safety profile remained consistent with the prior studies and compared positively to Pfizer's (PFE) Xalkori (crizotinib).
The EC converted the conditional marketing authorization of Alecensa in crizotinib failure to a complete standard marketing authorization. In November 2017, Alecensa received approval from the US FDA (Food and Drug Administration), Japan, and Turkey as a first-line treatment for individuals with ALK-positive NSCLC.
Alecensa's peers include Takeda Pharmaceuticals' (TKPYY) Alunbrig, Novartis's (NVS) Zykadia, and Pfizer's (PFE) Xalkori. The growth in sales of Roche's Alecensa and Novartis's Zykadia could boost the Vanguard FTSE All-World ex-US ETF (VEU). Roche and Novartis make up about ~0.69% and 0.79% of VEU's total portfolio holdings, respectively.