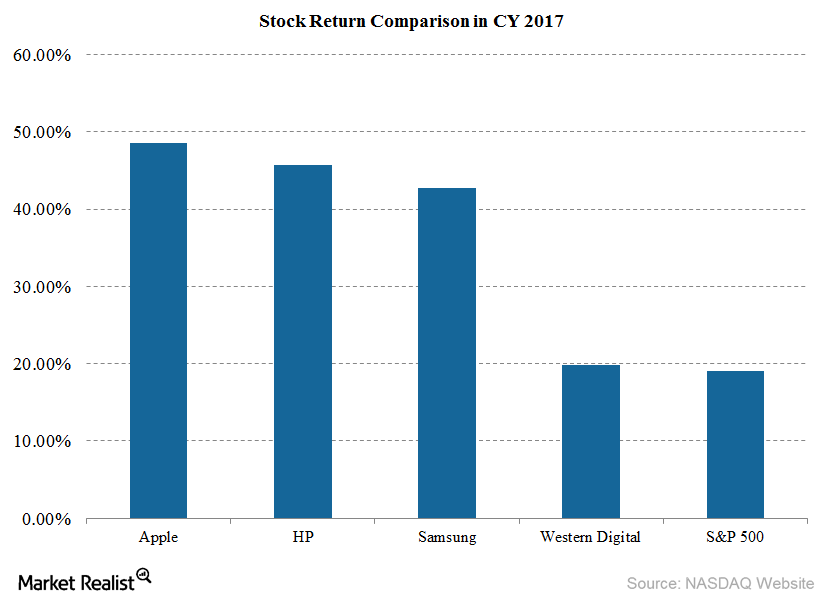 How Apple Stock Performed in 2017
Apple stock rose almost 50% in 2017
Technology (QQQ) heavyweight Apple's (AAPL) stock rose 48.5% in 2017 to close the year at $169.23. Apple stock is now trading 47.0% above its 52-week low of $114.76 and 4.5% below its 52-week high of $169.23. Its stock has fallen 0.2% in the last month and 3.3% in the last five trading days.
Apple stock rose 6% after the company announced its fiscal 1Q17 results and beat analyst estimates on January 31, 2017.
Article continues below advertisement
Earnings beat
One of the key drivers for Apple to beat the S&P 500 returns in 2017 was that the company consistently posted earnings higher than analyst estimates. In fiscal 4Q17, Apple posted EPS (earnings per share) of $2.07, which was 10.7% higher than average analyst estimates of $1.87.
Similarly, Apple beat EPS estimates by 6.4% in fiscal 3Q17, 4.0% in fiscal 2Q17, and 4.7% in fiscal 1Q17 when the company announced EPS of $1.67, $2.10, and $3.36, respectively.
New products
Apple (AAPL) launched a variety of new products in 2017, including the iPhone 8, iPhone X, and Apple Watch 3. These products were expected to drive Apple's revenues in the holiday season of 2017 and beyond. Finally, Apple's Services segment has seen tremendous growth in the last year and is the second-largest business segment for the company.
Peers such as HP Inc. (HPQ) and Samsung Electronics (SSNLF) have generated stock returns of 46.0% and 43.0%, respectively, in 2017.