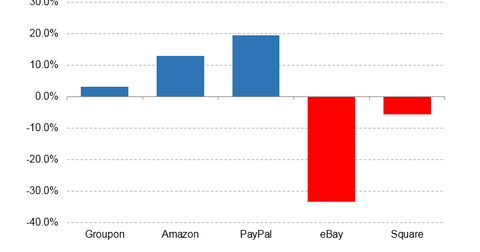 A Look at PayPal's Repurchasing Strategy
By Neha Gupta

Updated
PayPal repurchases $517 million in shares
When PayPal (PYPL) talks about aggressively allocating its swelling capital, one of the areas it is looking at is boosting the value it returns to shareholders. For a few years, PayPal has been repurchasing shares as part of maximizing value for shareholders.
Whereas PayPal didn't disclose any share repurchases in 3Q17 or 2Q17, in 1Q17, it repurchased shares worth $517 million. The company had $488 million remaining under its repurchase budget at the end of 1Q17. Before it could exhaust that budget, the board authorized a fresh repurchase program worth $5.0 billion.
Article continues below advertisement
Offsetting the impact of stock dilution
PayPal chief financial officer John Rainey shared some details about the company's stock repurchase strategy when he spoke at the Credit Suisse 21st Annual Technology, Media & Telecom Conference. First, Rainey said that PayPal's repurchase program has been designed to offset any dilutive impact on the stock arising from share-based compensation.
Opportunistic repurchase program
Second, PayPal's repurchase program is opportunistic, meaning that the company will buy back its shares if it believes they are undervalued. Since the initial repurchase authorization, PayPal has spent $1.7 billion to buy back its stock from shareholders at under $40 per share, Rainey said.
Comparing repurchase budgets
In 3Q17, PayPal's parent, eBay (EBAY), spent $907 million on stock repurchases. Groupon's (GRPN) stock repurchase budget was $9.2 million. Between 2Q17 and 3Q17, PayPal's cash balance rose 19.5% to $4.9 billion. Groupon's and Amazon's (AMZN) cash balances rose 3.2% and 13%, respectively, and Square's (SQ) and eBay's cash balances fell 5.6% and 33.3%.