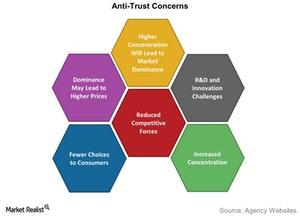 The Bayer-Monsanto Merger Concerns
Pending approvals
The Bayer-Monsanto (MON) merger deal is awaiting approval from several regulatory authorities around the world. They include the FTC (Federal Trade Commission), the European Commission, and the Brazilian anti-trust agency CADE (Administrative Council for Economic Defense), to name a few.
Article continues below advertisement
Anti-trust concerns
Some anti-trust agencies have pushed back their merger approval deadlines over anti-competitive concerns the deal will likely create. Some of the concerns include higher concentration that may lead to market dominance, challenges to R&D (research and development) and innovation, higher prices, and limited choices to customers.
Given the size of this deal, coupled with a concentration of companies in this sector (XLB) (MOO) including DowDuPont (DWDP) and Syngenta (SYT), the concerns outlined by regulatory agencies may be a hurdle for the Bayer-Monsanto merger. However, that doesn't necessarily create a basis for blocking the transaction altogether.
Opposition of activist groups
In addition to anti-trust concerns, the deal has received some opposition from activist groups. Law firm Konkurrenz Group recently released a white paper discussing some of its concerns about the Bayer-Monsanto merger. The white paper said the merger would increase the concentration of players and that together, Bayer and Monsanto would control more than 70% of the US cotton acreage. Consumers and farmers could have fewer choices, which could lead to higher prices.
According to the white paper, the merger would eliminate competition between Bayer and Monsanto, which would reduce competitive research collaboration. These are some of the same concerns reflected in recent updates by regulatory authorities in Brazil, Russia, and the European Union.
Next, let's dig deeper into the recent updates from Brazilian regulators.