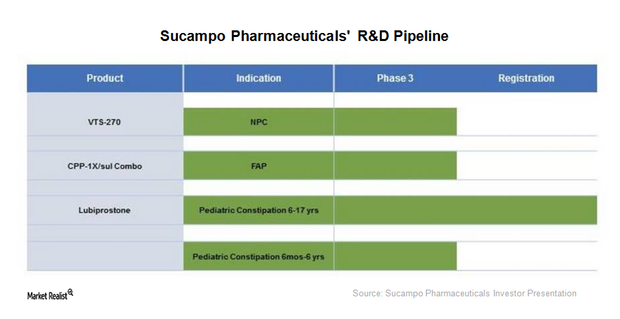 Sucampo Pharmaceuticals' Research Pipeline in December 2017
Sprinkle formulation of lubiprostone
Sucampo Pharmaceuticals (SCMP) recently completed a Phase 3 study for the alternative sprinkle formulation of Amitiza (lubiprostone) in adults with CIC (chronic idiopathic constipation). The existing formulation is in the form of capsules. The results did not show bioequivalence between the two formulations, and the company announced it will not continue with an NDA (New Drug Application) submission for the formulation for adults.
Article continues below advertisement
Lubiprostone in pediatrics
In November 2016, Sucampo Pharmaceuticals announced that its Phase 3 trial evaluating the efficacy of Amitiza for children six to 17 years of age suffering from constipation failed to achieve its primary endpoint. The FDA (U.S. Food & Drug Administration) accepted Sucampo's supplemental NDA in July 2017. The filing had received priority review designation by the FDA. A Prescription Drug User Fee Act (or PDUFA) date has been set for January 28, 2018. After consultations with the FDA, the company expects the Phase 3 program to be followed in mid-2018 in patients six months to six years of age.
CPP-1X for familial adenomatous polyposis
In January 2016, Sucampo entered into a collaboration agreement with Cancer Prevention Pharmaceuticals (CPP) in which the former was granted the option to acquire an exclusive license to commercialize CPP-1X in North America.
CPP-1X is currently being evaluated in a Phase 3 clinical trial for the treatment of FAP (familial adenomatous polyposis). FAP is a genetic disease that eventually culminates in cancer of the GI (gastrointestinal) tract. Results from this trial are expected in 2018. Currently, there are no approved treatments for FAP. CPP-1X has been granted orphan drug status in the United States by the FDA.
Sucampo makes up 0.02% of the iShares Russell 2000's (IWM) total portfolio holdings.
In the next part of this series, we'll look at more products in Sucampo's R&D (research and development) pipeline.