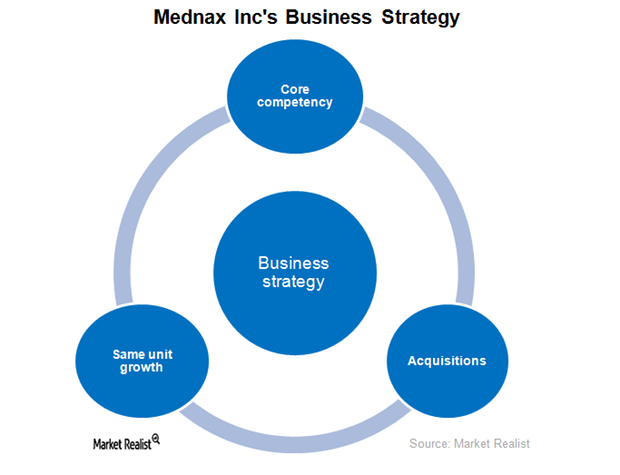 A Closer Look at Mednax's Business Strategy
Focus on core competency
Mednax (MD) has a proven track record of expertise in the administration of physician services and a methodical approach to clinical data warehousing in fields such as research, education, and quality. Analyzing clinical data in warehouses across neonatology, anesthesia, and other specialty services allows the company to provide feedback to physicians and improve outcomes.
Article continues below advertisement
Encouraging same-unit growth
Same- unit growth involves achieving higher output from facilities that have been operational for a comparable 12-month period. The acquisition of vRad in 2015 was a step in this direction. vRad's workflow platform helped the company expand in telemedicine, a segment that helps provide healthcare services from a distance. The company has also put together a national sales team with the aim of building new relationships.
Acquisitions
The company has been making regular acquisitions of physician practices to expand its operations. These acquisitions include related specialties in neonatology and anesthesiology as well as complementary specialties like pediatrics, ENT physicians, and pediatric ophthalmologists.
In 2016, the company made a total of 16 acquisitions. Thirteen were physician groups, including eight anaesthesiology practices and two pediatric practices. Mednax also acquired a third-party receivables company and a company that provides patient engagement software.
In fiscal 2017 so far, Mednax has completed a total of nine acquisitions, including radiology practices, maternal-fetal medicine practices, a neonatology practice, and pediatric specialty practices. The total consideration for these acquisitions was ~$357 million.
The company's long-term debt-to-equity ratio is 0.62. For peers LifePoint Health (LPNT), Acadia Healthcare (ACHC), and Envision Healthcare (EVHC) the ratio stands at 1.26, 1.30, and 0.98, respectively.
These acquisitions have helped Mednax expand its network of practices. The company's strategy is to improve the performance of these acquired practices with better-managed care contracting, an increase in collections, and cost savings.
Notably, Mednax makes up about 0.26% of the SPDR S&P Midcap 400 ETF's (MDY) total portfolio holdings.
In the next part of this series, we take a look at the company's financials.