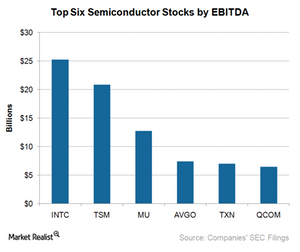 Reading the Most Profitable Semiconductor Companies
EBITDA
Semiconductor stocks have been growing as strong revenue growth has made investors bullish on these companies' future growth potential. However, the fastest-growing companies were not among the top dividend payers, as dividends require higher profits and cash flows, and profits depend on several factors, including revenue growth, cost optimization, product mix, and ASP (average selling price).
A company's EBIDTA (earnings before interest, tax, depreciation, and amortization) shows the profits earned by a company purely from its operating decisions. It excludes the impact of financial decisions such as debt and taxes and business decisions such as depreciation of assets. EBITDA makes profits of companies from different countries and different capital structures comparable.
Article continues below advertisement
The top 5 most profitable semiconductor stocks by EBITDA
In calendar 3Q17, Intel (INTC) was the most profitable semiconductor company, with a last-12-month EBITDA of $25.3 billion, followed by TSMC (TSM) at $20.86 billion, Micron Technology (MU) at $12.7 billion, Broadcom (AVGO) at $7.42 billion, and Texas Instruments (TXN) at $7.05 billion.
Qualcomm (QCOM) was cut from the top five list in 3Q17 as its licensing lawsuit with Apple (AAPL) reduced its 12-month EBITDA to $6.5 billion. While the lawsuit is ongoing, Qualcomm is looking to improve its profits by completing the acquisition of NXP Semiconductors (NXPI) by 1Q18.
Intel and TSMC have the highest profits because they have the highest revenue. The new entrant in this list is Micron, which emerged from making losses in 2016 to becoming one of the most profitable semi companies of 2017. This transition was due to increasing memory prices and cost-reduction efforts.
Texas Instruments moved to the fifth position from the second position in September 2017, while Broadcom moved to the fourth position from the sixth position, thanks to strong orders from Apple (AAPL).
The top semiconductor stocks by EBITDA margin
In terms of EBITDA margin, TSMC topped the chart with an EBITDA margin at 66%, followed by MU at 54%, TXN at 48%, NXPI at 46%, and AVGO at 42%.
Remember, the EBITDA margin determines a company's operational efficiency. Intel was not among the top five in terms of EBITDA margin, because it spends 21% of its revenues on R&D (research and development), while TSMC spends only 7.5% of its revenues on R&D.
EBITDA excludes the impact of debt on a company's profits, but cash flows are equally important for dividend-seeking investors. Next, we'll look at the most cash-rich semi companies of 2017.