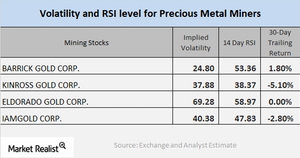 Reading Miner Volatility in December 2017
Mining stock analysis
A brief analysis of mining stocks is crucial when investors are considering parking their money in the precious metals market, specifically in mining shares.
In this article, we'll take a look at Barrick Gold (ABX), Kinross Gold (KGC), Eldorado Gold (EGO), and IAMGOLD (IAG). These companies' call-implied volatilities and RSI (relative strength index) scores will be the focus of the article.
Article continues below advertisement
Volatility analysis
ABX, KGC, EGO, and IAG have call-implied volatilities of 24.8%, 37.9%, 69.3%, and 40.4%, respectively. Among these four miners, Kinross and IAMGOLD have trailing-30-day losses of 5.1% and 2.8%, respectively, while Barrick Gold has a trailing-30-day gain of 1.8%. Eldorado has seen no gain and no loss in its price over the last month.
Relative strength index
If a stock's RSI score is greater than 70, it could be in overbought territory, and its price could fall. If a stock's RSI score is lower than 30, it could be oversold, and its price could rise.
ABX, KGC, EGO, and IAG have RSI scores of 55.4, 38.4, 59, and 47.8, respectively. These RSI figures have recently rebounded due to the price revival of mining stocks.
The PowerShares DB Gold ETF (DGL) and the VanEck Merk Gold Trust (OUNZ) have trailing-five-day gains of 1.6% each. Most precious metals–based funds have also seen this rebound.