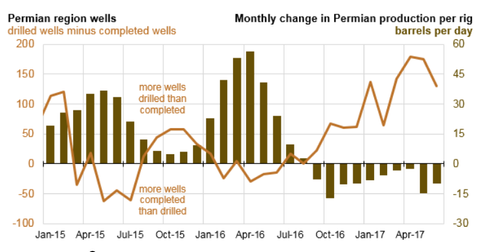 What's Productivity Looking Like in the Permian Basin?
By Keisha Bandz

Updated
Permian productivity
According to a report released by the EIA (U.S. Energy Information Administration) in July 2017, productivity in the Permian Basin in terms of new-well oil production per rig in barrels per day decreased for the tenth consecutive month in June.
According to the EIA, output per rig is likely decreasing as a result of operators drilling more wells than they are completing.
Because oil only flows after the completion of a well, drilled but uncompleted wells tend to lower output per drilling rig. As a result, the inventory of drilled but uncompleted wells (or DUCs) increases.
Permian DUCs
The EIA's November 2017 DPR (Drilling Productivity Report) showed that DUC wells for the seven regions (Bakken, Appalachian, Eagle Ford, Permian, Niobrara, Anadarko, and Haynesville) rose 138 to 7,342 in October 2017. The Permian Basin alone added 103 DUC wells, surpassing other regions. The second-highest number of DUCs in October was seen in the Eagle Ford, adding 33 DUC wells in May.
Key E&P (exploration and production) producers in the Eagle Ford include EOG Resources (EOG) and ConocoPhillips (COP).
Reason for lag in well completions
In the above chart, we can see that there has been an increasing number of wells drilled than completed since July 2016.
The EIA noted that the reason for this could be a wider spread between the WTI (West Texas Intermediate)-Midland crude and the WTI-Cushing crude, which suggests the possibility of transportation constraints. Implementation of strategies could be another reason for lags in well completions where completion equipment might not be deployed until all wells are drilled from a single pad.
Despite the lag in well completions, the EIA suggests that average output per well indicates that productivity based on initial production rates has continued to rise in the Permian region.
In the next part, we'll look at trends in drilling and completion costs in the Permian Basin.