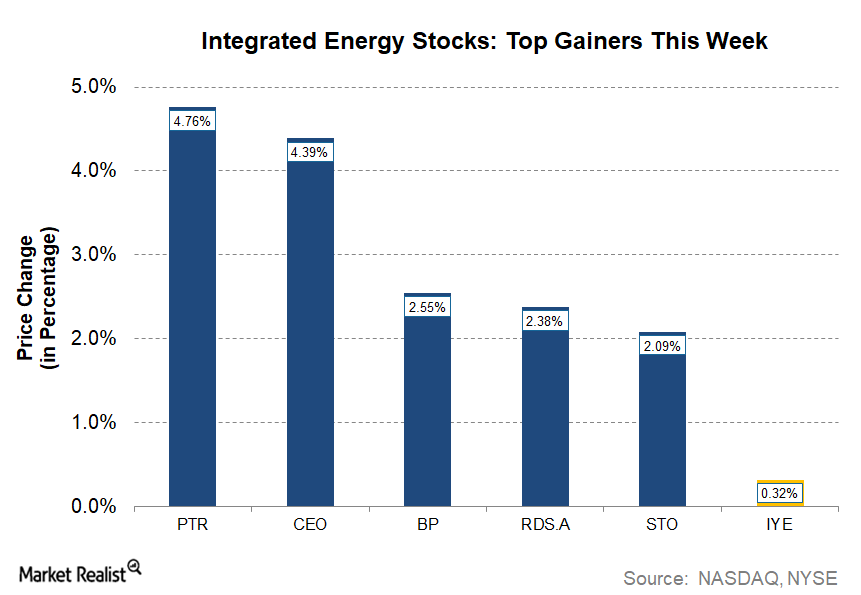 Integrated Energy Gainers: PTR, CEO, BP, RDS.A, and STO
By Nicholas Chapman

Dec. 14 2017, Updated 2:30 p.m. ET
Integrated energy gainers
Continuing with the biggest movers in the energy sector, we'll now look at the top gainers from the US integrated energy sector for the week starting December 11.
Article continues below advertisement
PetroChina gaining momentum
This week, PetroChina (PTR) is at the top of the list of gainers from the integrated energy group. PetroChina rose from last week's close of $66.32 on December 8 to $69.48 on December 13—a strong rise of ~4.8%.
Even though there's no stock-moving press release from the company this week, PTR rose strongly by ~2.6% yesterday and continued with the positive momentum throughout the day. This rise in PTR's stock price came after finding support at its 50-day and 200-day moving averages. Last week, PTR's 50-day moving average crossed above its 200-day moving average—a positive technical indication. As of December 13, PTR is trading at $69.48, whereas its 50-day and 200-day moving averages stand at $66.66 and $66.01, respectively.
In general, PTR has been in an uptrend since July 11, and it rose ~15.6% since then.
Other integrated energy gainers
Other gainers in the integrated energy group are China National Offshore Oil Corporation (CEO), BP Amoco PLC (BP), Royal Dutch Shell (RDS.A), and Statoil ASA (STO). These stocks have risen ~4.4%, ~2.6%, ~2.4%, and ~2.1%, respectively, so far this week.
Of note, on December 8, China National Offshore Oil Corporation (CEO) announced a mid-sized natural gas field discovery in Bohai. Commenting on the discovery, CEO's executive vice president and general manager of Exploration Department, Xie Yuhong, said, "The natural gas field discovery of Bozhong 19-6 demonstrates good prospects of buried hills for future gas exploration of Bohai Bay and lays a solid foundation for the company's quality clean energy supply for the Beijing-Tianjin-Hebei region."
In general this week, iShares U.S. Energy ETF (IYE) is up modestly by ~0.3%.  iShares U.S. Energy ETF (IYE) has ~42.7% weightage for the integrated energy sector in its portfolio and contains heavyweights like Exxon Mobile (XOM) and Chevron (CVX). In comparison to IYE, the SPDR Dow Jones Industrial Average ETF (DIA) is up by 1.1% in the current week.