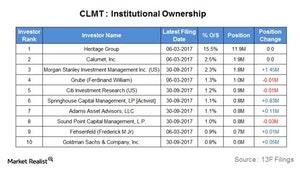 Are Institutional Investors Bullish on Calumet Specialty?
Top investors
Heritage Group and Calumet are the top two investors in Calumet Specialty Products Partners (CLMT), holding 15.5% and 2.5%, respectively, of CLMT's outstanding shares. Their positions in the stock haven't changed since March 2017.
Morgan Stanley Investment Management, Citi Investment Research, and Springhouse Capital Management are the top three institutional investors in Calumet after Heritage Group and Calumet. The three own 2.3%, 1.2%, and 1.1%, respectively, of Calumet's outstanding shares. Springhouse Capital Management is an activist investor.
Ferdinand William Grube holds 1.3% of Calumet Specialty's outstanding shares. While both Morgan Stanley Investment Management and Springhouse Capital Management added to their CLMT positions, Citi Investment Research reduced its position by 0.01 million shares, according to the latest filings.
The above table shows the changes in ownership for the top ten holders of Calumet Specialty Products Partners stock. The top ten institutional investors in CLMT collectively own nearly 27.6% of its outstanding shares.
Article continues below advertisement
Institutional investors are bullish
As Form 13F is filed quarterly, the above changes in institutional investors' Calumet Specialty holdings reflect 3Q17 activity. Overall, four of the top ten investors added to their positions, while two sold CLMT shares in 3Q17. The other four investors didn't change their positions in 3Q17.
The top ten institutional investors in Calumet Specialty Products Partners collectively added net 2.4 million CLMT shares to their positions. These changes indicate a positive outlook for institutional investors for CLMT.
Morgan Stanley Wealth Management sold 0.42 million CLMT shares in 3Q17. It does not appear in the list above, as it is not one of the top ten investors in CLMT.
For an update on institutional activity in major MLPs in 3Q17, read Charting the 3Q17 Institutional Activity in Major MLPs.