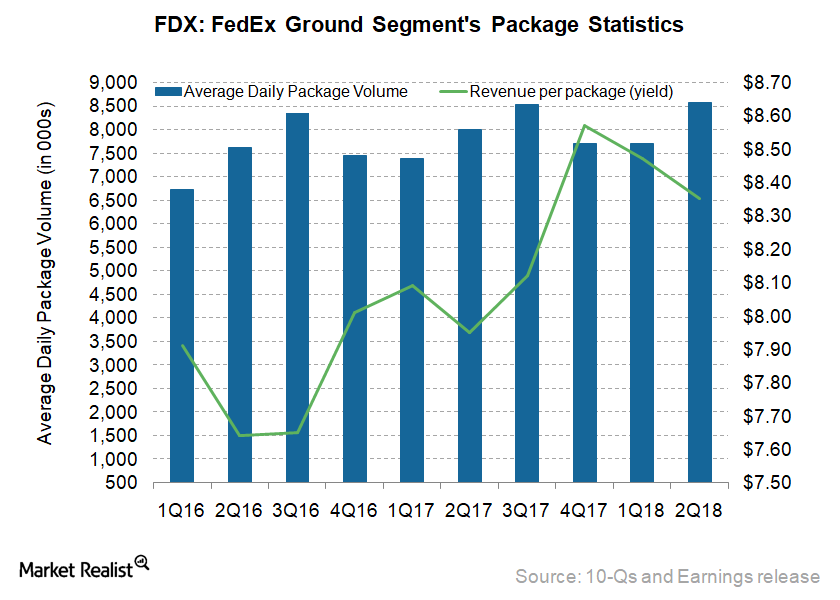 FedEx Ground's Revenues in Fiscal 2Q18: What's behind the Growth?
FedEx Ground's fiscal 2Q18 revenues
In this part of the series, we'll look at FedEx Ground's (FDX) fiscal 2Q18 operations. The vertical's revenues rose 11.5% to $4.9 billion from $4.4 billion in fiscal 2Q17. With a 30% share in FedEx's total revenues, the Ground division is the second-largest contributor to the company's overall revenues.
Article continues below advertisement
Article continues below advertisement
Ground segment's volumes and yield
FedEx Ground consists of the Ground segment and FedEx Supply Chain. The Supply Chain operations include GENCO revenues, and the SmartPost revenues are consolidated into the Ground revenues. FedEx Ground revenues rose in the double-digits by 12.6% to $4.5 billion in fiscal 2Q18 from $4 billion. Supply Chain revenues rose slightly by 1% to $408 million in the reported quarter.
In fiscal 2Q18, revenues of the FedEx Ground segment rose due to a high single-digit growth of 7% in average daily package volumes. The segmental yield rose 5.1% to $8.35 per package from $7.95 per package in fiscal 2Q17. The yearly rate hike along with a change in dimension weight devisor resulted in yield improvement. Excluding the impact of fuel, FedEx Ground's yield per package rose 4% due to commercial services.
Management's outlook
FDX announced a 4.9% rise in the Ground segment's shipping rates on September 18, 2017. Effective January 22, 2018, the company will apply the dimensional weight pricing to FedEx SmartPost shipments. Considering the growing influence of e-commerce, FedEx increased its retail access with around 8,200 locations, which were added to the FedEx Onsite network. The company tied up with retailers such as Walgreens, Kroger, and Albertsons.
Article continues below advertisement
FedEx has formulated a unique strategy for peak pricing this year. It will not apply an additional peak surcharge to all residential packages except for oversized packages or packages needing additional handling. FDX has been focused on automating its sorting facilities and upgrading its initiatives in the Ground segment.
ETF investment
The transportation sector is a subgroup of the industrial sector. Investors wanting exposure to the US industrial sector can consider the iShares US Industrials (IYJ). Among IYJ's top holdings are Boeing (BA) with a 4.9% weight, General Electric (GE) with a 4.5% weight, and 3M (MMM) with a 4.2% weight.
In the next part, we'll provide an update on FedEx Freight's performance in fiscal 2Q18.