Eurozone Manufacturing Rises at a Higher Rate in November
Eurozone manufacturing data The Eurozone's manufacturing PMI (purchasing managers' index) stood at 60.1 in November, compared with 58.5 in October 2017, according to Markit Economics. The reading met the preliminary estimate of 60. Eurozone manufacturing activity rose due to increases in the following: production output new orders and export orders employment Production output and new order levels reached […]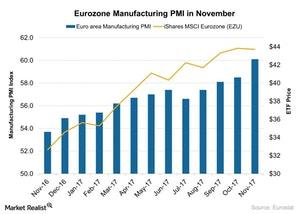 Eurozone manufacturing data
The Eurozone's manufacturing PMI (purchasing managers' index) stood at 60.1 in November, compared with 58.5 in October 2017, according to Markit Economics. The reading met the preliminary estimate of 60.
Eurozone manufacturing activity rose due to increases in the following:
production output
new orders and export orders
employment
Production output and new order levels reached multiyear highs in November 2017, and job creation touched a record high. Export orders showed strong growth, mainly due to improved overseas demand.
Article continues below advertisement
Article continues below advertisement
The Eurozone manufacturing PMI's robust growth was supported by growth in member countries such as Germany (DAX-INDEX), France, the Netherlands, and Austria. After the Brexit vote, investors expected Eurozone and British economic activity to fall. Now that the Eurozone's economy (N100-INDEX) is stronger, investors' confidence has risen.
ETF performance in November