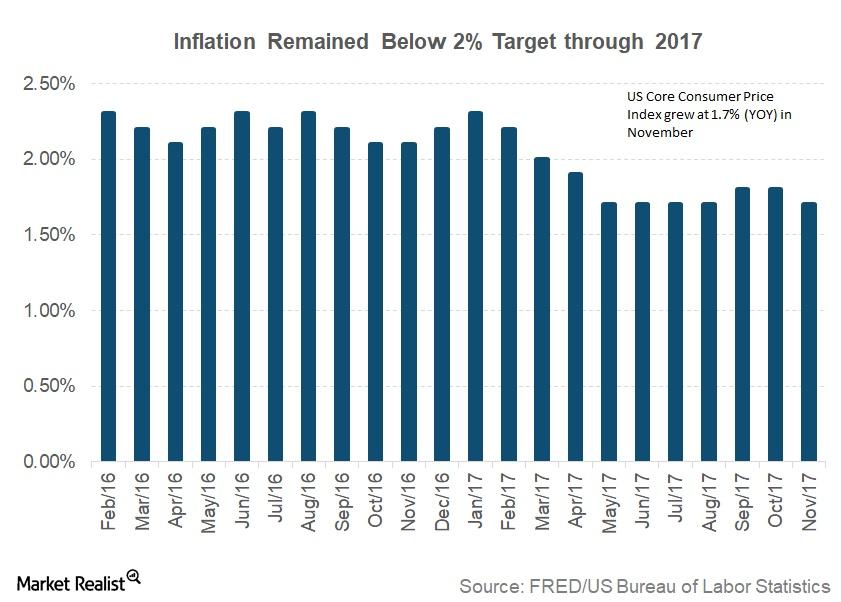 The Curious Case of Low Inflation in 2017
By Ricky Cove

Dec. 22 2017, Updated 4:40 p.m. ET
Key Fed members and low inflation
Since the great recession in the past decade, low interest rates and abundant liquidity provided through quantitative easing programs failed to push inflation higher. The average inflation rate in the United States in the last six decades has been 3.6%. The core inflation (TIP) rate, which tracks the price changes for a basket of products excluding volatile food and fuel (USO), have been stubbornly below the Fed's target of 2% for 2017. Fed members were unable to explain the reasons for low inflation and stated their hopes that inflation will pick up next year.
Article continues below advertisement
Understanding the importance of CPI
The Consumer Price Index (or CPI) tracks the price changes for a defined basket of goods. According to the Fed, an optimal level of inflation (VTIP) in the current economic climate is set at 2%. At that rate, the demand for goods could help manage economic growth at a healthy pace. Let's see why prices could continue to increase.
If prices are falling, consumers delay their purchases, which impacts sales for retailers and production at factories (XLI), leading to job losses and eventually to a recession.
Will inflation pick up in 2018?
The last statement from the US Fed, which was released with its recent rate hike decision, cited lower levels of inflation but hopes that the inflation target could be achieved in 2018. The impact of tax cuts, low unemployment, and marginally increasing wages is likely to have a positive impact on inflation (SCHP) in the months ahead. Will the increase be sufficient? That's a tough question to answer since no one knows if inflation will rise.
In the Fed's recent meeting, two members expressed dissent over a rate hike, citing low inflation. If inflation continues to remain low in 2018, could the Fed be forced to refrain from further rate hikes?
In the next part of this series, we'll analyze the performance of the manufacturing and services sector.