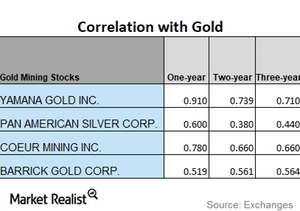 Correlation and Mining Stocks this Month
Correlation analysis
Article continues below advertisement
Correlation analysis
Among the four miners we're examining, Kinross Gold had the highest correlation with gold over the past year while Eldorado Gold had the lowest.
All four of the miners we're discussing have seen a downward trend in correlation over the past three years. The correlation for IamGold Corp has fallen from a three-year correlation of 0.62 to a year-to-date correlation of 0.40. A correlation of 0.40 suggests that about 40% of the time, IamGold moves in the same direction as gold.
The miners' correlation readings is often subject to change, as the miners are volatile.