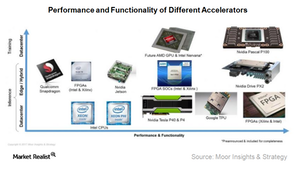 Why Competition Is Heating up for NVIDIA in the AI Space
More players enter the AI space
Given the strong growth opportunities in the AI (artificial intelligence) space, many companies are shifting their focus toward AI, which has been increasing the competition for NVIDIA (NVDA). Bernstein Research estimates that spending on AI-related server microprocessors could grow from $500 million in 2016 to $10 billion in 2020.
Intel (INTC) is one of the biggest investors in AI and is currently offering five AI chips, including the Nervana Neural Network Processor, the Myriad X, the its traditional core processor Altera FPGA (field-programmable gate array), and the Xeon Phi processor to compete with NVIDIA's Tesla GPUs (graphics processing unit). It's also recently hired Advanced Micro Devices' (AMD) GPU head, Raja Koduri, in an effort to add one more AI chip to its offerings.
Article continues below advertisement
AMD, on the other hand, is combining its EPYC server processor with its Vega GPU to develop Radeon Instinct server chips that can handle AI tasks. AMD has partnered with cloud companies like Amazon.com (AMZN) and Microsoft (MSFT) as well as major Chinese (FXI) companies to develop AI technologies. But NVIDIA's GPUs remain the preferred choice of AI researchers because of their strong software and performance.
NVIDIA's reaction to AI competition
At the fiscal 3Q18 earnings call, NVIDIA's chief executive Jen-Hsun Huang responded to analysts concerns over the increasing competition. He explained that NVIDIA has an advantage of a single GPU architecture that meets all types of AI needs. This helps the company remain focused on a single architecture, provide full software support to it, and generate maximum returns from that one architecture.
On the other hand, if a company has four or five different architectures, their focus is divided and so is their software support, he stated. He added that a company cannot support so many architectures forever and would have to discontinue 80% of these architectures, thereby putting consumers who purchased the wrong architecture at a disadvantage.
While NVIDIA's single architecture approach brings its own benefits, it also exposes the company to a huge risk of failure. If that one architecture fails, the entire company would be in jeopardy. However, the company has not faced such failures and has only reaped benefits from single architecture.
Apart from companies, NVIDIA's GPUs might face competition from other accelerators in specific domains. We explore this factor further in the next part.