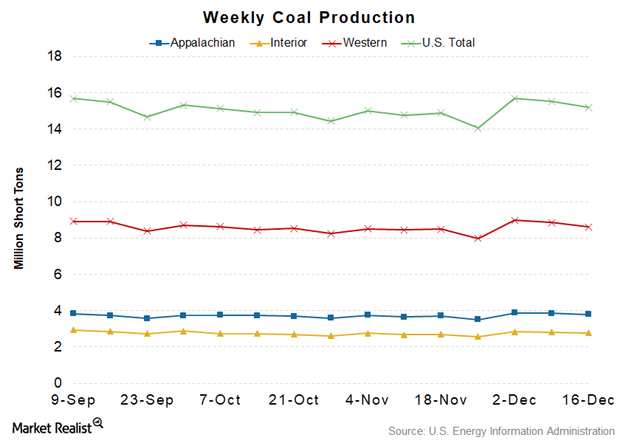 Coal Production Continues to Fall
EIA's weekly coal report
On December 21, the EIA (U.S. Energy Information Administration) released the estimate of the coal volumes produced in the US for the week ending December 16. The EIA estimates the weekly report based on the quantity of coal shipped during the particular week through railway freight. A principal portion of revenues of railroad freight companies like Union Pacific (UNP) and Norfolk Southern (NSC) is derived from coal shipments.
Article continues below advertisement
Article continues below advertisement
Weekly coal shipment
According to the EIA, the US coal produced on December 9–16 was estimated to be 15.2 million short tons. It's ~2.2% short of 15.5 million short tons produced in the previous week. However, it has risen a marginal 0.2% on a YoY (year-over-year) basis.
The estimated coal production from the Appalachian region and Interior region during the week is ~3.8 million short tons and ~2.8 million short tons, respectively. The remaining 8.61 million short tons of coal was from the Western region. The coal production has fallen in all three regions on a week-over-week basis.
Relation between coal production and shipments
The extent of the demand for coal is the primary factor for notable (KOL) coal companies like Alliance Resource Partners (ARLP) and Westmoreland Company (WLB) to determine the volume of coal to be mined.
Various factors like competition from other low-cost energy sources and railroad availability arbitrate coal shipments. Therefore, coal production and shipments mirror each other.
In the next part, we'll discuss the most recent prices of coal produced in the significant coal mining regions.