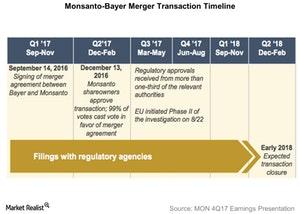 Why Brazil Is Worried about the Bayer-Monsanto Merger
By Adam Jones

Dec. 8 2017, Updated 12:35 p.m. ET
Brazil pushes back
In October 2017, Brazilian anti-trust agency CADE (Administrative Council for Economic Defense) pushed back its review deadline for the proposed Monsanto (MON) merger with Bayer by 90 days, taking the new deadline probably to March 2018. That dampened the hopes of both companies to complete the merger earlier than anticipated. However, there are expectations that a decision on the deal could come as early as December 20, 2017.
Article continues below advertisement
CADE's concerns
According to CADE, the merger between Monsanto and Bayer will negatively impact two of Brazil's key crop markets—soybeans and cotton. CADE said most Brazilian companies depend on these two companies to source their seeds.
The approval of the merger may result in some conditions from the Brazilian watchdogs. Some of the conditions could include reducing dominance by having more players in the market.
According to several reports, soybean growers in Mato Grosso have approached CADE to force the sale of Monsanto's patents related to the Intacta RR2 PRO technologies in the region. So CADE may also look into this patent dispute before granting approval of the merger.
Conditional approvals not uncommon
Giving conditional approval to mergers is not uncommon. Recently, PotashCorp (POT) and Agrium (AGU) received conditional approval from China and India to divest their stakes in minority interests, including stakes in Sociedad Química y Minera de Chile (SQM), to successfully complete their merger. You can find out more at PotashCorp-Agrium Revisited: Key Updates.