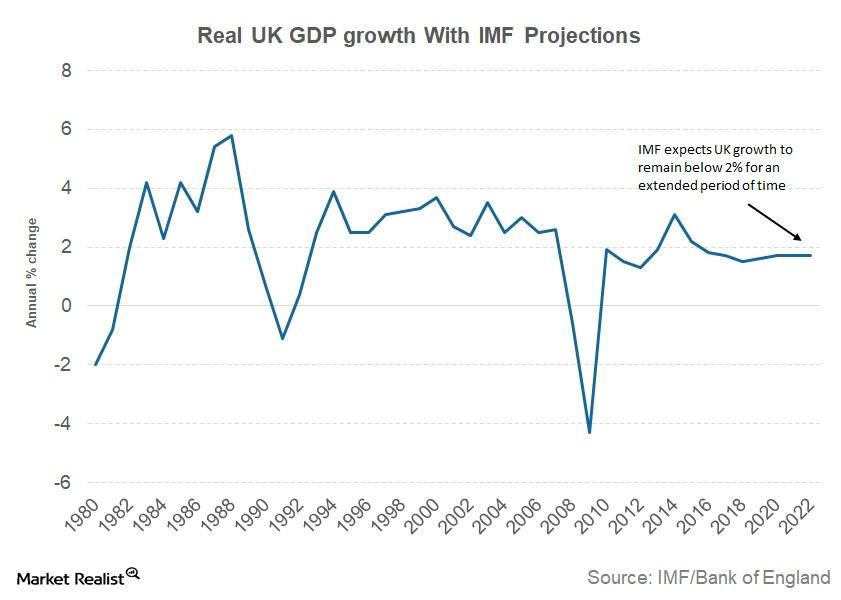 Why the IMF Sees Continued Uncertainty in the UK
International monetary fund cuts UK growth forecast
The International Monetary Fund (or IMF), in its October world economic outlook, downgraded its growth outlook for the United Kingdom. The IMF said it expects the UK economy (EWU) to grow at a rate of 1.7% in 2017, compared to its previous forecast of 2%. The reason for the 0.3% downward revision was weaker-than-expected growth recorded in the first two quarters this year. The IMF pointed out slower growth in private consumption, which was affected by the significant depreciation of the British pound (GBB) since the Brexit referendum. The growth projection for 2018 was unchanged at 1.5%.
Article continues below advertisement
IMF inflation outlook for the United Kingdom
The IMF projected that UK inflation would peak at 2.6% in 2017 before returning to the Bank of England's inflation target of 2%. Inflation expectations for the United Kingdom are to remain anchored near the 2% mark once the impact of a weaker pound (FXB) wanes. The recent interest rate hike of 0.25% from the Bank of England is likely to help lower the inflation rate in the United Kingdom (FKU).
Outlook remains uncertain for the United Kingdom
The IMF has said that the medium-term outlook for the United Kindom remains highly uncertain. Future economic prospects for the United Kingdom depend on the new economic relationship with the European Union (VGK). Trade agreements, immigration, and cross-border financial activity are likely to have an impact on the economy and difficult to forecast at this juncture.
In the next part of this series, we'll discuss the IMF's outlook for the Eurozone.