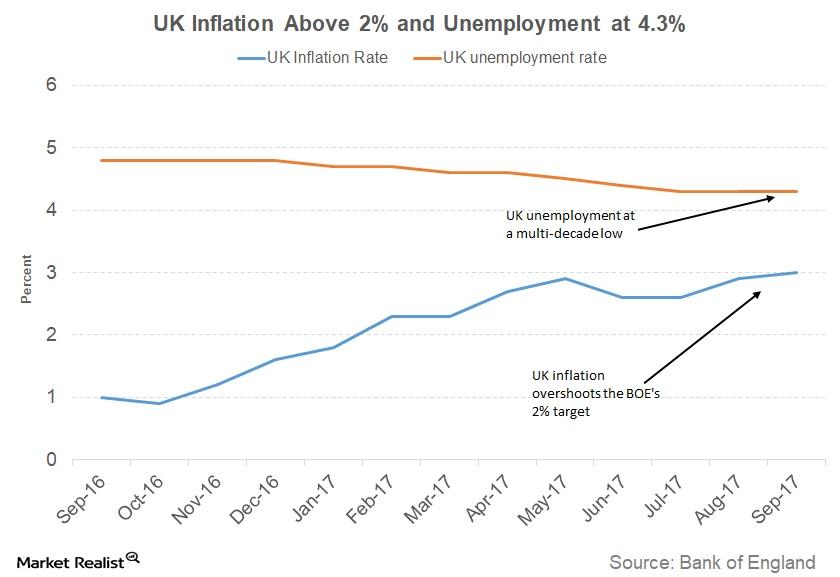 Why the Bank of England Wants Inflation to Fall
Recent trends in UK inflation
Along with its latest interest rate decision, the BOE (Bank of England) publishes its inflation report, which includes reports on inflation trends and the outlook for economic growth. According to the inflation report from November, the BOE said that prices in the UK are rising at a faster rate than the 2% target.
The central bank said that the key reason for such sharp increase in prices was due to the depreciation of the British currency (FXB) after the Brexit referendum.
Article continues below advertisement
British unemployment at a 4–year low
The BOE's November policy report cited lower levels of unemployment as another reason for raising the interest rate this month. The BOE said that unemployment had fallen to a 43–year low and that there's limited slack remaining in the economy.
Such high levels of employment could lead to higher levels of spending, and such a scenario would likely lead to higher wages soon. This could add to further upward pressure on prices as consumers would be likely to have more to spend.
Will the BOE raise rates again?
Remember, UK interest rates were stuck at 0.50% for nearly a decade, and the recent rate cut to 0.25% was an emergency step taken by the BOE to limit the turmoil caused by Brexit. The BOE has only just returned the rates back to the previous level and is expected to increase rates again only in late 2018. The UK's economic performance and Brexit terms will likely be key inputs for changes to monetary policy.
In the next and final part of this series, we'll understand the reason behind the fall in British pound (HEWU) following the BOE's latest statement.