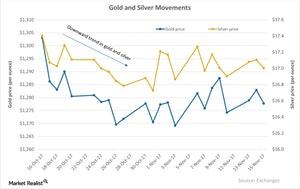 Who's Pro Gold and Who's Not?
Hoarding gold or not
Geopolitical events like tensions with North Korea helped drive the price of gold higher in September 2017. But as the risk subsided, precious metals turned lower. Gold, silver, platinum, and palladium have seen 30-day trailing losses of 2.1%, 2.5%, 1.7%, and 0.05%, respectively.
Investors often analyze the overall market scenario when they consider parking their money in gold. Market stability and gold seem to be inversely related to each other. The positions taken by investment majors in the precious metals market can also impact the decisions of the broader market participants.
Article continues below advertisement
Fund management firm Paulson & Co., headed by John Paulson, left its stake in gold investments unchanged in the third quarter of 2017. It maintained its stake in the SPDR Gold Shares (GLD) (SGOL) (SIVR) at 4.4 million shares, valued at $530 million. Paulson also has stakes in miners, including Iamgold (IAG), Randgold Resources (GOLD), and Seabridge Gold.
Other major investors
The Soros Fund Management kept its stake out of gold for four straight quarters. CI Investments, however, sharply increased its holdings in the SPDR Gold Shares to ~$1.5 million as of the end of September 2017.
A lot of attention is also focused on the upcoming Federal Reserve meeting and whether it will move interest rates. Economic numbers could also affect the movement of precious metals.
Among the top two losers on Wednesday, November 15, 2017, were Sibanye Gold (SBGL) and Buenaventura Mining (BVN).