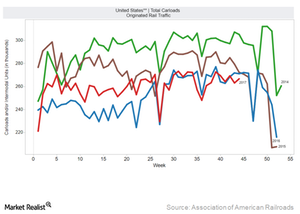 Week 44 Failed to Lift US Rail Freight Volumes
US rail freight volumes
The Association of American Railroads released its North American freight data for the 44th week of the year, which ended on November 4, 2017.
Recently, US rail (UNP) freight volumes have increased at a much lower rate or have even reported negative changes in YoY (year-over-year) volumes. In the 44th week of 2017, total rail freight traffic in the United States recorded a ~0.9% fall. Overall volumes, including intermodal, decreased to ~539,000 units from ~543,300 units in the 44th week of 2016.
In week 44 of 2017, US railcar volumes fell 1.7% to ~266,700 railcars compared to ~271,000 railcars in the corresponding week last year. US railroad (IYJ) intermodal volumes expanded marginally by 0.01% to ~272,000 trailers and containers in the reported week.
Article continues below advertisement
Changes in commodity groups
Of the ten carload commodity groups, five groups reported a rise. These included metallic ores, metals, nonmetallic minerals, and chemicals. Commodity groups where volumes fell in the 44th week of 2017 included coal, grain, petroleum, and petroleum products.
Other North American volumes
Unlike their US counterparts, Canadian railroads (CNI) reported a rise in volumes across all major categories. They saw their railcar volumes increase 0.9% YoY to ~82,000 railcars in the 44th week. On the intermodal front, Canadian railroad volumes increased in the double digits by 23% to ~71,000 trailers and containers.
In contrast to Canadian rail carriers, Mexican railroads (KSU) reported traffic losses across categories in the 44th week. Their intermodal traffic decreased 4.9% to ~11,800 units. Carloads were ~15,400 units in the reported week.
In the next part of this series, we'll take a close look at BNSF Railway's (BRK.B) shipments.