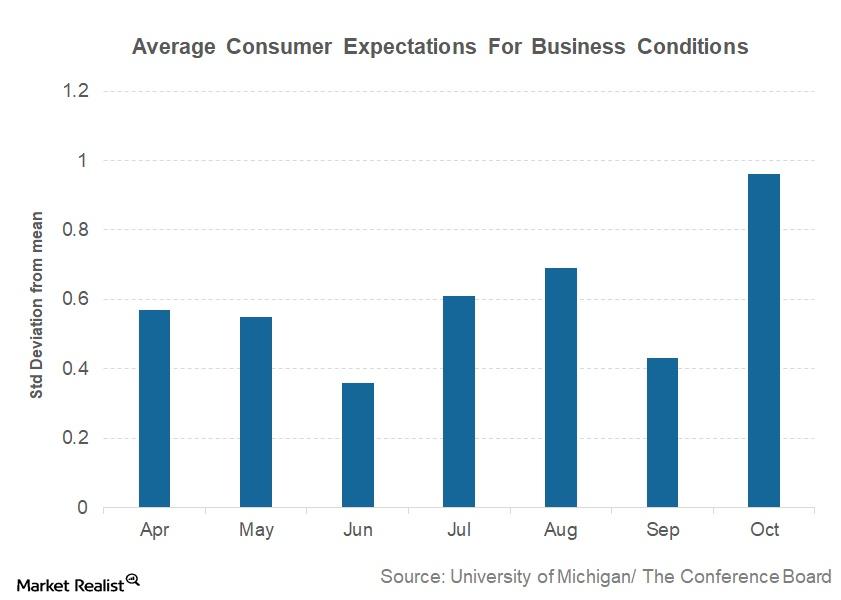 Understanding the Sharp Rise in Consumer Expectations in October
Consumer expectations for business conditions
The Conference Board Leading Index has only one component that is not a leading indicator. The average consumer expectations are based on two different surveys conducted by the University of Michigan and Reuters, as well as the Conference Board.
Consumer expectations are calculated as an average of these two surveys. The University of Michigan and Reuters surveys collect consumer expectations for economic conditions for a forward 12-month period ahead. The Conference Board survey records consumer expectations for business conditions six months ahead.
Article continues below advertisement
Recent data on consumer expectations
The November Conference Board LEI reported the average consumer expectations for business conditions for October at 0.96, a sharp increase from the September reading of 0.43. The impact of the hurricanes lowered the September reading but increased the possibility of tax cuts.
The expected increase in demand during the holiday season has improved consumer expectations in November. An increase in average consumer expectations for business is a considered a positive sign for the US economy.
Conclusion
The Conference Board Leading Economic Index is considered one of the best predictors of changes to business cycles. The November report paints a positive outlook for the US economy and hints that the current expansion could continue.
In November, volatility (VXX) can be expected to remain low. The bond (SHY) (PCY), equity (QQQ), and currency markets (CEW) could react to any news on tax reforms. The next LEI report is scheduled to be released on December 21.