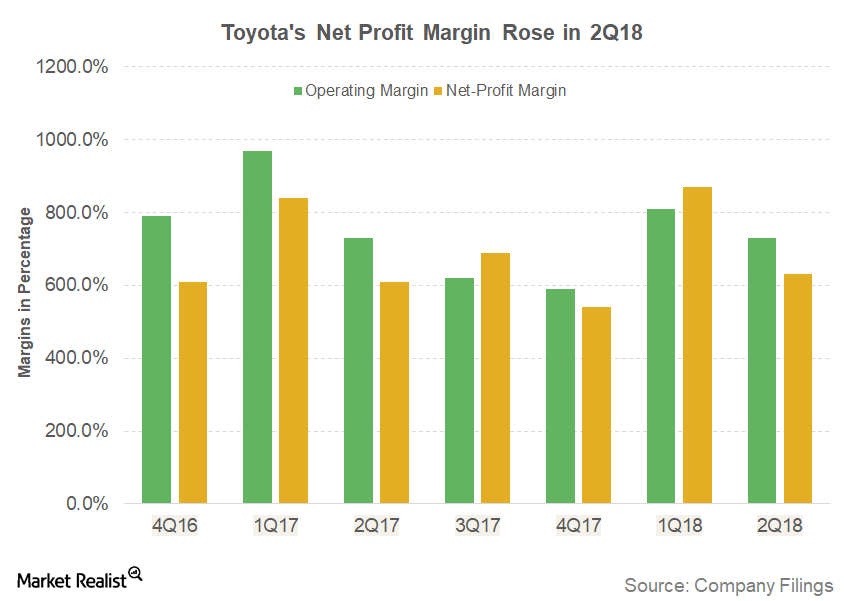 How Toyota's Profit Margins Trended in Fiscal 2Q18
Toyota's revenues
In the previous part of this series, we saw that Toyota Motor (TM) reported higher revenues in fiscal 2Q18 (July 1, 2017, to September 30, 2017). Along with the recent weakness in the Japanese yen, higher sales in Europe and Asia also drove its revenues higher. Toyota has a good reputation among its peers of having industry-leading margins. Let's take a closer look at its margins in fiscal 2Q18.
Article continues below advertisement
Toyota's margins in fiscal 2Q18
In fiscal 2Q18, Toyota reported a flat operating margin of 7.3% compared to 7.3% in the same quarter the previous year. Despite higher revenues and currency tailwinds, its profit margins fell largely due to higher expenses and a higher budget for marketing. Higher overall expenses also hurt the company's margins in fiscal 2017 (ended March 31, 2017).
On the positive side, Toyota's 2Q18 net profit margins rose 6.4% compared to 6.1% in 2Q17. That was lower than 8.7% reported in fiscal 1Q18. A YoY (year-over-year) expansion in Toyota's net profitability could keep investor optimism alive going forward.
Toyota has much higher profit margins than mainstream auto giants (FXD) General Motors (GM), Ford (F), and Fiat Chrysler (FCAU). Toyota's strong focus on the luxury vehicles segment and a weakness in the Japanese currency have helped it maintain better profit margins than its peers in the last few years.
In the next part of this series, we'll see how Toyota's financial services division performed in fiscal 2Q18.