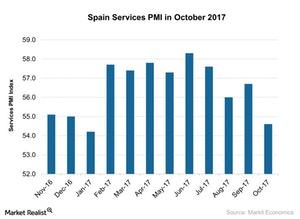 Why Spain's Services PMI Fell in October 2017
Spain's Services PMI in October
According to a report by Markit Economics, the final Spain services PMI stood at 54.6 in October 2017 compared to 56.7 in September 2017. The PMI figure didn't beat the preliminary market estimation of 55.5.
The weaker performance in Spain's services PMI in October was mostly due to the following:
Production volume and output slowed in October 2017.
New business orders and export orders showed weaker improvement in October 2017 compared to September 2017.
Employment growth in the service sector also rose at a weaker pace in October 2017.
Article continues below advertisement
Performance of various ETFs in October
The iShares MSCI Spain Capped ETF (EWP), which tracks Spain's economic performance, improved 1.6% in October 2017. The iShares MSCI Eurozone ETF (EZU), which tracks Europe's (VGK) (IEV) economic performance, improved ~1.2% in October 2017.
After huge ups and downs in Spain's economic activity, it is back on track as shown by the improvement in its economic growth. However, the rising political uncertainty in Catalonia in October mostly affected consumer demand and business confidence during the month. This trend led to a significant fall in manufacturing and services activity in October compared to September 2017.
In the next part of this series, we'll analyze the services PMI for the Eurozone in October 2017.