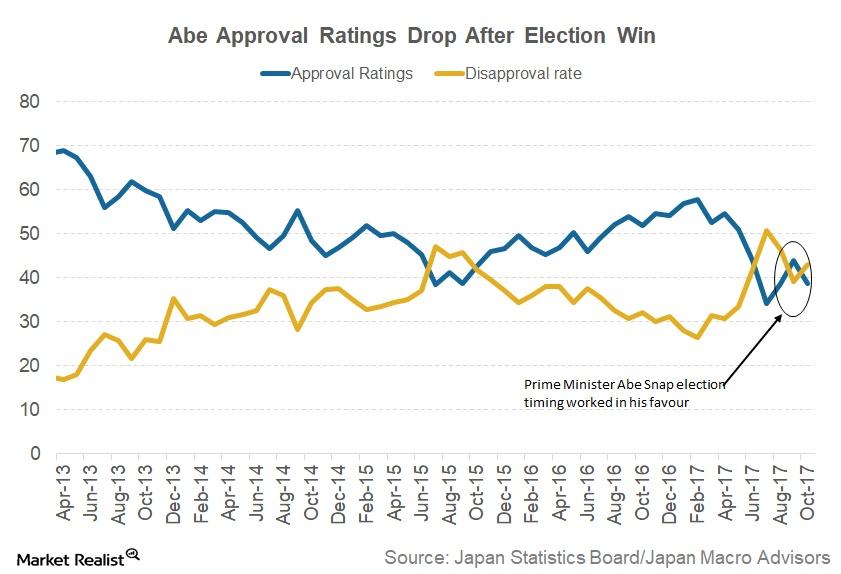 Why the Recent Election Results Are Positive for Japan
Prime Minister Shinzo Abe wins the election
Japanese Prime Minister Shinzo Abe's call for an early election worked in his favor. He called for a snap election to take advantage of a spike in his approval ratings in August, which fell in July. Prime Minister Abe's Liberal Democratic party and their coalition partner, Komeito, have secured more than the required majority of 310 seats to form the government. The election victory is a mandate for Prime Minister Abe to continue with economic and constitutional reforms. The reforms are considered to be positive for the Japanese economy.
Article continues below advertisement
Positive for Japan's economy
Prime Minister Abe's win guarantees a continuation of Abenomics or the ultra-loose monetary policy program being conducted by the Bank of Japan. The interest rates will remain close to zero, which makes Japan the only developed market that's expected to remain accommodative. Lower interest rates and a depreciating Japanese yen (FXY) would be the benefits from the continued accommodative policy. Both of these factors are positive for export-heavy Japanese companies (DXJ).
Will the results impact Japan's markets?
Japanese equities (EWJ) and Japanese government bonds (BNDX) have reacted positively to the election outcome. The Bank of Japan's policy is even beneficial to its Asian peers. There would at least be one remaining source of liquidity in the markets. All of the major economies like the US, the European Union, and the United Kingdom have either started or are planning to start tightening.
In the next part of this series, we'll discuss the Japanese yen's (YCS) price action in recent weeks. We'll discuss why the yen will likely depreciate more.