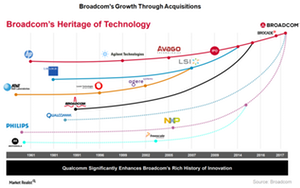 How Does Qualcomm Fit into Broadcom's Business Model?
Broadcom: a product of M&A's
Broadcom (AVGO) is a product of multiple M&As (mergers and acquisitions). In the list of top 10 semiconductor companies by revenue, Broadcom has climbed from the tenth position in 2010 to the fifth position in 2016. Qualcomm (QCOM) has moved from the ninth position to the third position during the same time period.
But Broadcom climbed the ladder through acquisitions, while Qualcomm climbed the ladder through its technology advantage in the smartphone industry.
Broadcom has four business segments: Wired Infrastructure, Wireless, Enterprise Storage, and Industrial. It grew its first two segments by acquiring the traditional Broadcom and is now expanding its third segment through the Brocade (BRCD) acquisition.
Article continues below advertisement
Broadcom's product portfolio
Today, Broadcom has a vast portfolio of 18 IC (integrated circuit) components used in the communications market including ICs that support data center networking, set-top boxes, broadband access, smartphones, factory automation, game consoles, laptops, and electronic displays. The company also supplies LEDs (light emitting diodes), displays, and network-Bluetooth adaptors.
Broadcom is one of Apple's (AAPL) largest semiconductor suppliers, supplying eight components for iPhone, including RF (radio frequency) power amplifier modules, Wi-Fi/Bluetooth combo chips, and GPS (global positioning system) chips. It expects the dollar content per phone to increase 40% in fiscal 2017.
The addition of Qualcomm would also likely increase Broadcom's dollar content per phone.
How would Broadcom leverage the Qualcomm merger?
RBC Capital Markets analyst Amit Daryanani stated that Broadcom CEO (chief executive officer) Hock Tan could add significant value to Qualcomm by bringing significant savings to selling, general, and administrative expenses. The merger with Qualcomm would make the combined company an end-to-end 5G technology provider.
Remember, 5G technology would require wireless carriers to deploy small radios all around the covered area, thereby increasing the demand for Broadcom's Ethernet switches.
Tan would likely follow his usual strategy, wherein he keeps the businesses that are in sync with Broadcom's business model and divests other businesses to repay debt and improve cash flows. Amit Daryanani believes that Broadcom may divest or shut down Qualcomm's Atheros Bluetooth driver and radio frequency joint venture, RF360.
As Broadcom could reduce Qualcomm's dependence on licensing revenue, Tan could implement a fundamental change in the latter's business model and resolve many of its legal disputes related to licensing.
Amit Daryanani estimates that the combination of AVGO and QCOM could generate $27–28 in annual EPS (earnings per share) by calendar 2020.