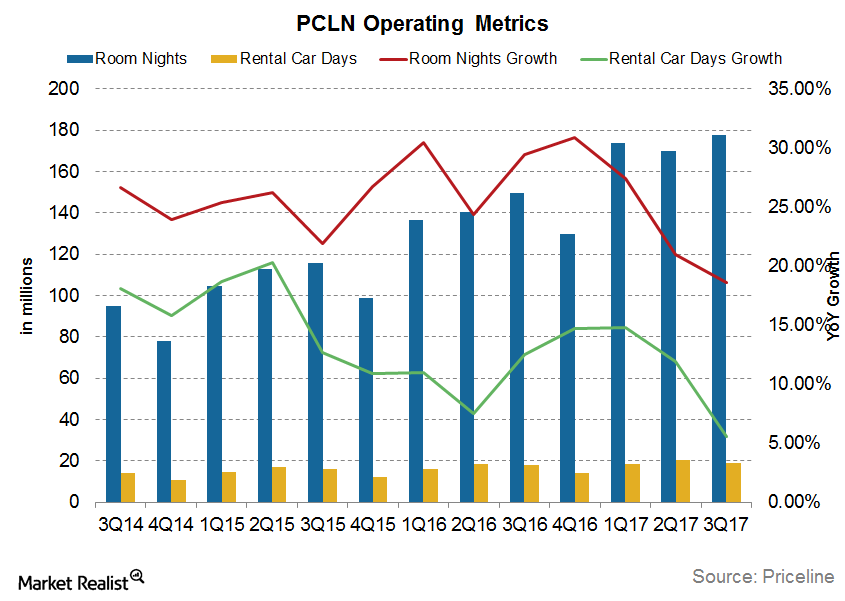 Priceline's Key Metric Growth Is Slowing Down
Room nights grow
Hotel accommodations have historically driven Priceline's growth. During the third quarter of the year, Priceline's global accommodation business booked 178 million room nights—growth of 18.6% year-over-year or YoY compared to last year.
Booking.com's vacation rental properties rose 58% YoY to 816,000 properties, and total bookable properties grew 41% YoY to 1.5 million properties.
Article continues below advertisement
Car rentals and advertising grow too
Priceline's rental car days also grew 5.5% YoY in the third quarter to 19 million units—also slower than the growth recorded in the last three quarters. Growth in rental car days has been falling since 2013.
Air tickets fall
Airline tickets sales form just 1% of PCLN's total bookings, and they continued their declining trend. Online airline tickets sold fell 11.8% to 1.7 million.
Outlook
Though 19% YoY growth in room nights sold looks good, what's troubling investors and analysts alike is the declining trend in growth rates. Room nights booked recorded growth of almost 29% YoY in the third quarter last year and 31% YoY growth in 4Q16. Since then, it has been falling. Priceline's guidance for the next quarter isn't very reassuring either.
For the fourth quarter of 2017, Priceline expects its room nights booked to grow by about 8%–13% year-over-year. This growth would lead to gross bookings growth of 9.5%–14.5% YoY (5.5%–10.5% in constant currency). This outlook represents a further slowdown for the company.
Investors can gain exposure to Priceline (PCLN) stock by investing in the PowerShares DWA Consumer Cyclicals Momentum Portfolio ETF (PEZ). Priceline has the second-highest weight in PEZ of ~4.8%.
PEZ also invests 2.6% of its portfolio in Expedia (EXPE). However, this ETF has no exposure to online travel stocks TripAdvisor (TRIP) and Ctrip International (CTRP).