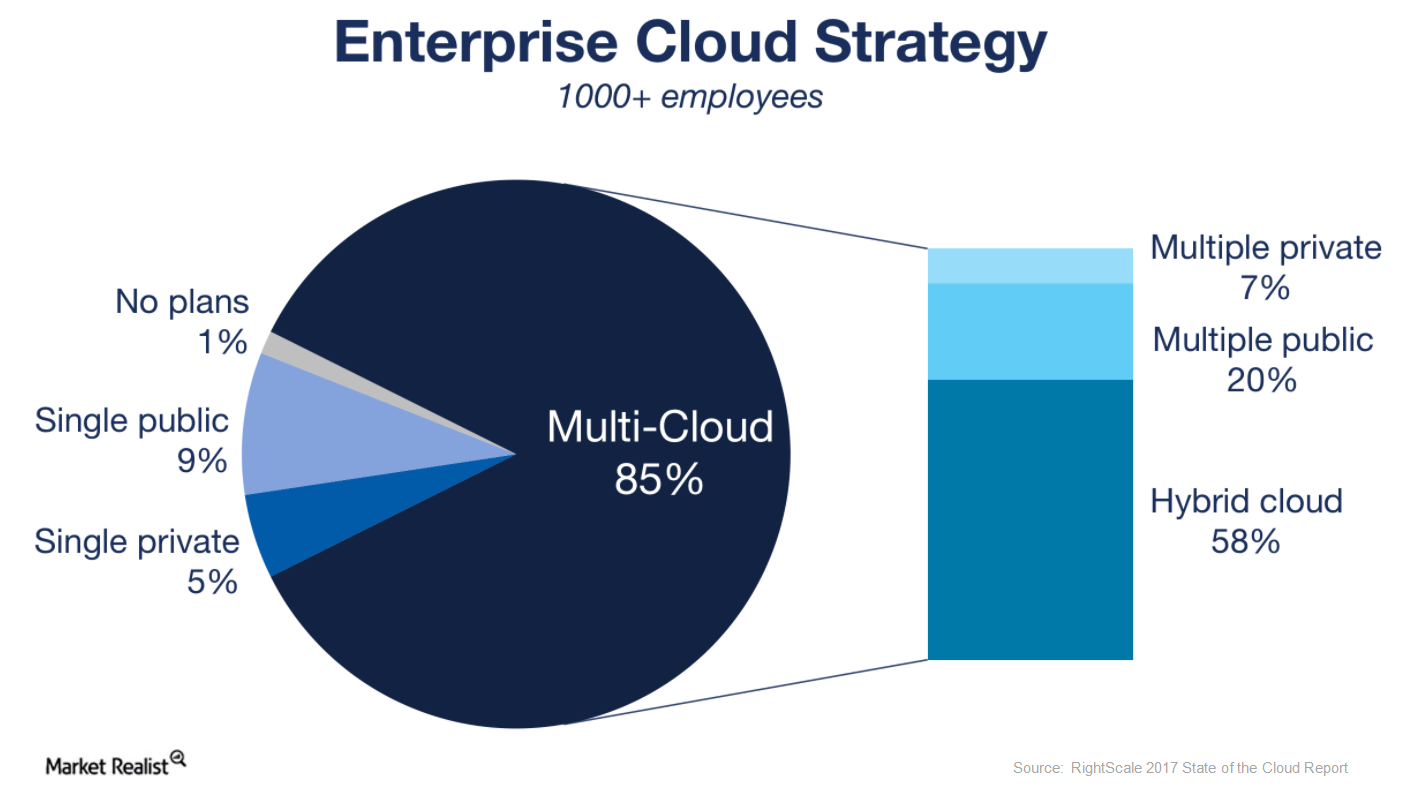 A Look into IBM's Growth Strategy
IBM's Strategic Imperatives segment
Previously in this series, we looked into the earnings performance of companies in the S&P 500 Index and IBM's (IBM) role in this rally. Better-than-expected fiscal 3Q17 results and a 4Q17 outlook that exceeded analysts' expectations provided a boost to IBM stock.
Consistent growth in the cloud and mainframe systems enabled IBM to post a lower-than-expected fall in its revenues in 3Q17.
IBM's Cloud business includes public-infrastructure-as-a-service, hybrid cloud, private cloud, and other high-value services built on its cognitive computing platform, Watson.
Article continues below advertisement
Explaining how IBM Cloud stands apart from its peers, Martin Schroeter, IBM's CFO, noted, "Keep in mind the IBM Cloud is built for the enterprise. It is the only cloud that integrates public, private, multi-cloud and traditional data centers through a single architecture and is designed for cognitive workloads."
Recently, HSBC Holdings (HSBC) signed IBM to revamp its IT infrastructure with cloud technologies.
Hybrid cloud set for increased adoption
IBM is a leader in the hybrid cloud space, which is poised to see increased adoption. According to RightScale's 2017 State of the Cloud Report, 58% of these enterprises have a hybrid cloud strategy, compared with 55% in 2016, as the chart above shows.
To leverage this trend and enhance its presence in the hybrid cloud, Microsoft (MSFT) recently launched Azure Stack. Azure Stack is a private and hybrid cloud offering that allows customers to enjoy the benefits of the public cloud and the hybrid cloud. These customers can buy their own hardware and run the service wherever they want.
In 2016, Amazon (AMZN), the leader in the overall cloud space, partnered with VMware (VMW) to enter the hybrid cloud space. IBM also has a strategic partnership with VMware in this space.
Hybrid cloud technology typically offers more control, more cost-structure efficiency, reduced risk, and better performance, which explains organizations' growing preference for it. IBM's leadership in this space bodes well for the company's growth prospects.