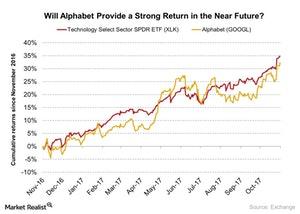 What's Leon Cooperman's Largest Position?
Leon Cooperman on Google
Legendary investor Leon Cooperman shared his favorite stock picks and largest position in a recent interview with CNBC.
He said, "I'm finding a lot of stocks that are attractively priced, my largest position is Google." He is optimistic about Google (GOOGL) and expects its sales could grow 20% per year.
Article continues below advertisement
Alphabet's earnings
Alphabet reported its 3Q17 earnings on October 26, 2017. The company posted EPS (earnings per share) of $9.57, which beat analysts' estimates of $8.33. On November 1, 2017, Alphabet was trading at a trailing price-to-earnings multiple of 32.9x and a 12-month forward price-to-earnings ratio of 26.3x. The technology sector (XLK) was trading at a trailing price-to-earnings of 29.0x. The one-year EPS (earnings per share) growth rate stood at 25.1%. The S&P 500 ETF's (SPY) (IWM) EPS growth rate stood at 21.5%.
Cooperman is especially impressed with Alphabet's high positive cash flow compared to other companies (QQQ). A company can use positive cash flow to buy other businesses, expand its existing production capabilities, and declare dividends.
According to a 13F filing report, Google is the largest holding of Omega Advisors as of June 30, 2017. It represents nearly 6.2% of Omega Advisors' portfolio.
In the next part of this series, we'll analyze Leon Cooperman's view on Facebook (FB).