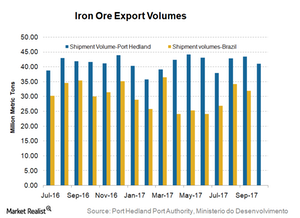 Outlook: Iron Ore Exports Remain Strong
Iron ore shipments
Australia and Brazil's (EWZ) exports of iron ore account for a major part of the overall seaborne iron ore trade globally. Therefore, to keep an eye on the progression of supply in the market, it's vital to keep tabs on iron ore shipments from major ports in these two countries.
Australia's largest iron ore loading port is Port Hedland. Major miners such as BHP Billiton (BHP), Hancock Prospecting, and Fortescue Metals Group (FSUGY) use this port to load their iron ore. Rio Tinto (RIO), on the other hand, uses Port Dampier.
In October 2017, iron ore exports from Port Hedland fell 1.4% year-over-year (or YoY) to 41.0 million tons. Volumes are down 5.5% sequentially from September 2017. Exports to China also fell 4.1% YoY to 35.2 million tons.
Probably, capacity cuts in China entail lower demand for iron ore, affecting shipments.
Article continues below advertisement
Shipments from Brazil
Brazil's iron ore exports to China rose 12.5% YoY in October to 19.78 million tons. The majority of the iron ore produced in Brazil comes from Vale (VALE), which produces very high-quality ore—which is likely why, despite capacity cuts, iron ore shipments from Brazil rose. Chinese steel mills have started demanding ore with higher iron ore content so as to minimize pollution as per authorities.
Brazil's iron ore volumes are also inching higher as Vale's largest iron ore project, S11D, is ramping up.
More supply going forward
Monthly irregularities aside, the general trend of iron ore exports from Australia and Brazil is on the rise. Many miners in these countries are still ramping up. Roy Hill in Australia and Vale in Brazil are still in their ramp-up phases. This ramping up should lead to additional volumes in the coming one to two years.