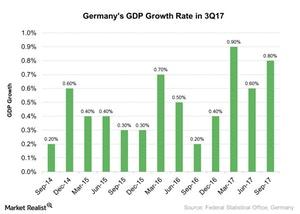 Germany's GDP at 0.8% in 3Q17: Will It Raise Investor Sentiment?
Germany's GDP at 0.8% in 3Q17
According to a report by the Federal Statistical Office, Germany's GDP growth rate was 0.8% in the third quarter of 2017 compared to 0.6% growth in the second quarter of 2017. It met the market expectation of 0.8% growth.
The improvement in economic growth in 3Q17 was mainly driven by stronger foreign investments and foreign trade. Household consumption and government spending are also gradually improving in Germany (EWG) (DAX-INDEX). On a quarterly basis, exports rose 1.7% in 3Q17 compared to a 1% rise in 2Q17.
However, investments in machinery and equipment rose 1.5% in 3Q17 compared to a 3.3% rise in 2Q17. Government spending remained flat in 3Q17. On a yearly basis, Germany's GDP growth was 2.8% in 3Q17 compared to 2.3% growth in 2Q17.
Article continues below advertisement
Economic impact
As economic growth in Germany gradually picks up, it could be a positive indicator both for the Eurozone (N100-INDEX) (EZU) (VGK) and for Germany. The quarterly economic growth of the Eurozone is also improving. Improving fundamentals in these economies could accelerate investor sentiment in the near term.
In the next part of this series, we'll take a look at the indicators investors should watch this week.