Emerging Markets Growth Is Driving Medtronic's Geographic Strategy
In fiscal 2Q18, Medtronic registered sales of ~$1.1 billion from emerging markets.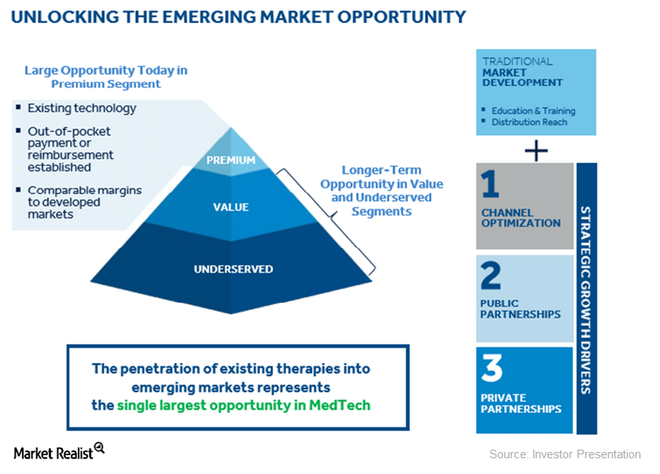 Medtronic's three-pronged growth strategy
Medtronic (MDT) is the largest pure-play medical technologies player in the United States. It comprises ~0.51% of the SPDR S&P 500 ETF's (SPY) total portfolio. MDT has a number of market-leading products in its portfolio.
In recent years, the healthcare industry has seen shifting business models amid disruption in the market. Consequently, the company has established a three-pronged strategy for growth, which includes therapy innovation, globalization, and economic value creation.
These strategies are aimed at maintaining and advancing Medtronic's market position and reach. The company has been adjusting to new business models primarily based on a value-based care approach.
Article continues below advertisement
Article continues below advertisement
Globalization strategy growth and major drivers
In fiscal 2Q18, Medtronic registered sales of ~$1.1 billion from emerging markets. This represents ~12.0% growth on a YoY (year-over-year) basis. In fiscal 1Q18, Medtronic had registered ~11.0% YoY growth in its emerging market sales.
The continued strong double-digit growth in these markets bolsters the company's long-term double-digit growth forecast for emerging markets.
Latin America sales grew ~18.0% in fiscal 2Q18, as Brazil led the region with growth in the mid-20s. This growth is driven by the company's direct operations expansion across the region, driving the company's channel optimization strategy.
Sales in the Middle East and Africa registered growth of ~13.0%. The headwinds in the Middle East stabilized in fiscal 1Q18 after six quarters of sales declines in the region. The strength across its Spine, Coronary, Structural Heart, and Brain Therapies divisions drove the sales growth of ~12.0% in Southeast Asia.
The Greater China region maintains its strong growth rate of 12.0% with low double-digit sales growth in the CVG (Cardiac and Vascular Group) business. It reported high-teens and mid-teens growth in Medtronic's RTG (Restorative Therapies Group) and MITG (Minimally Invasive Therapies Group) business in the region.
Peers
Some of the other MedTech companies expanding its operations across the high-growth emerging markets include Becton, Dickinson and Company (BDX), Boston Scientific (BSX), and Stryker (SYK). While Stryker generates ~6% of its total sales from emerging markets, BDX has ~16% of its total sales contribution from business in emerging markets.
Boston Scientific's core growth strategies include expansion across high-growth markets, including emerging markets that currently contribute ~12% to the company's total revenues.