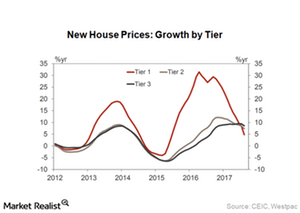 Cleveland-Cliffs: Tracking China's Steel Demand
China's property sector
China's property sector is one of the most steel-intensive sectors, consuming close to 50% of overall steel demand. Investors should track the property sector through various indicators, which we'll discuss later in this article.
China's property sector seems to be cooling down in the face of a tighter liquidity environment. Real estate investment growth fell in October 2017 to just 5.6% from 9.2% year-over-year (or YoY) growth in September 2017.
Property sales and new construction starts also fell. New construction starts, measured by floor area, fell 4.3% YoY in October. The floor area of property sales fell 6.0% in October YoY.
Home prices in large cities have also softened. The slowing property market is most likely in accordance with the government's intention of controlling the overheating real estate market.
Article continues below advertisement
China's auto sales
China's total vehicle sales rose 2.0% in October 2017 compared to October 2016. The sales in the January–October period are up 4.1% compared to the same period in 2016.
After October's data, the China Association of Automobile Manufacturers warned that the growth target of 5.0% for 2017 probably wouldn't be met and that growth wouldn't exceed ~4.0%. The year-to-date increase is still much lower than last year's growth, mainly due to the rollback of the Chinese government's 2016 tax incentive.
A lackluster growth in the property and auto market may not bode well for the steel demand in the country. These factors could be negative for global steel (SLX) demand.
Lower steel demand is negative for iron ore demand, which impacts seaborne iron ore players such as Rio Tinto (RIO), Vale (VALE), BHP (BHP), and Cleveland-Cliffs (CLF).