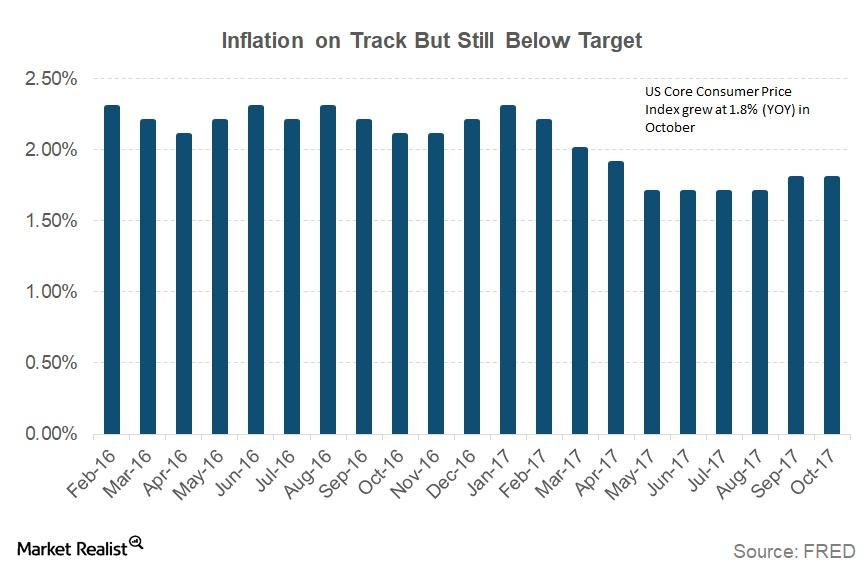 Chart in Focus: The Consumer Price Index Rose in October
Consumer Price Index
The Consumer Price Index (or CPI) measures the changes in prices at the consumer level. In the previous part of this series, we discussed Purchasing Price Index (or PPI), which measures prices at the wholesale level.
The CPI, on the other hand, is a weighted average price of a basket of goods and services at the consumer level and includes food, medical care (XLV), transportation, housing, apparel, recreation, education, communication, and other goods.
According to the latest CPI report released by the Bureau of Labor Statistics, consumer prices rose 0.1% in October and rose 1.7% over the last 12 months.
Article continues below advertisement
Importance of the Consumer Price Index
The Consumer Price Index tracks changes to the costs that consumers pay, and high levels of volatility (VXX) in these prices impact consumers' spending decisions.
According to the Federal Reserve, which has an inflation target of 2.0%, an optimal level of inflation keeps the economy running at a healthy pace.
A closer look at the October CPI report
Consumer prices (TIP) have risen ~2.0% in the past one-year period, with housing costs up 2.8% and services up 2.7%. Core inflation, which excludes the volatile food and energy prices, has risen 1.8% this year—closer to the Fed's 2.0% target rate.
The October PPI report is a forward indicator and projects a further increase in consumer prices. We can expect that Consumer Price Inflation (VTIP) is on track toward its 2.0% target.
The Fed is expected to increase the target funds rate by 0.25% at its December meeting. Encouraged by the optimistic inflation (SCHP) outlook, the Fed's forward guidance could suggest three or four hikes in 2018.