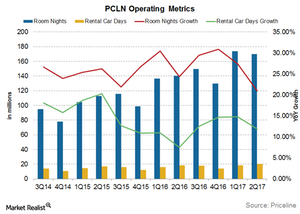 Chart in Focus: Priceline's Booking Guidance for 3Q17
Gross bookings slowing down
The total value of all travel services purchased by customers is measured by gross bookings, which gauge a company's revenue and profit performance.
For 1Q17, Priceline's (PCLN) gross bookings grew 24.2% year-over-year (or YoY) to $20.7 billion. In 2Q17, its bookings grew 16.4% YoY to $20.8 billion.
Article continues below advertisement
Accommodation business
Priceline's (PCLN) accommodation business contributes ~77.0% of its gross bookings share. Its hotel room nights booked increased 21% YoY in 2Q17 compared to ~27.4% YoY growth in 1Q17 and the 28.7% YoY growth seen in 2016.
Rental car days
PCLN's rental car business grew 11.7% YoY in 2Q17 compared to 14.8% YoY in 1Q17 and 11.2% YoY in fiscal 2016. Its rental car days account for ~12% of the total bookings.
Bookings to decelerate
According to Priceline management's bookings guidance for 3Q17, the company's gross bookings are expected to grow 11%–16% YoY (9%–14% in constant dollars). Its room night metric is expected to grow 11%–16% YoY. The average daily rate is expected to fall 1% YoY.
The growth in bookings is in stark contrast to 2016 when its gross bookings grew 23% YoY to $68.1 billion (25% on a constant currency basis). The growth was expected to slow down eventually, given Priceline's size. However, because Priceline has been conservative in its estimates, investors are still expecting higher bookings growth.
Investors can gain exposure to Priceline stock by investing in the PowerShares DWA Consumer Cyclicals Momentum Portfolio ETF (PEZ). PCLN has the ETF's second-highest weight of ~4.8%. PEZ also holds 2.6% in Expedia (EXPE).
However, PEZ has no exposure to online travel stocks TripAdvisor (TRIP) and Ctrip International (CTRP).