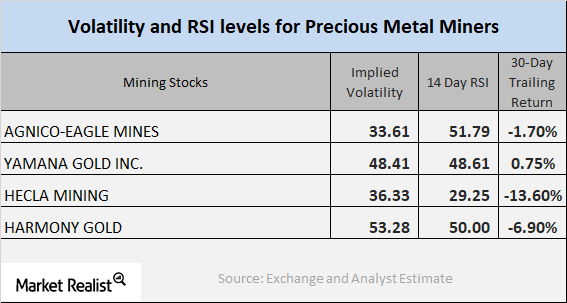 A Brief Analysis of Mining Stocks in November 2017
Technical indicators
In this part of the series, we'll concentrate on the technical readings of key mining shares, including their RSI (relative strength index) levels and call implied volatilities.
Call implied volatility measures the fluctuations in an asset's price given the variations in the price of its call option. The RSI level reads whether a stock is overbought or oversold. Levels above 70 suggest that the stock is overbought, while levels below 30 suggest that the stock is oversold.
Article continues below advertisement
Volatility and RSI levels
On November 7, 2017, mining shares Agnico-Eagle Mines (AEM), Yamana Gold (AUY), Hecla Mining (HL), and Harmony Gold (HMY) had implied volatility readings of 33.6%, 48.4%, 36.3%, and 53.3%, respectively. AEM, AUY, HL, and HMY have RSI scores of 51.8, 48.6, 29.3, and 50.0, respectively.
During the past 30 trading days, all four of these miners have seen 30-day trailing losses, except Yamana Gold, which has a marginal 30-day trailing gain of 0.75%.
The past month has also been adverse for most mining shares. The US dollar had been rising, and news of a possible interest rate hike caught investors' attention. Precious metals, however, have managed marginal gains.