Breaking down Bitcoin and Cryptocurrencies: Key Characteristics
In the case of bitcoin, the safety of the system is linked with the bitcoin algorithm, which miners keep solving to generate new coins and maintain the system.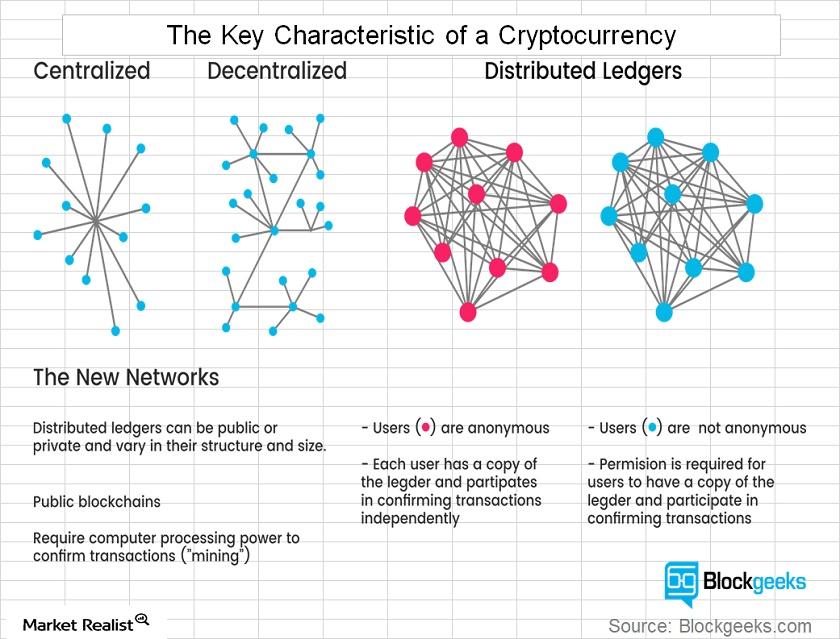 Are cryptocurrencies merely a medium of transfer?
The original idea behind the creation of cryptocurrencies was to enable peer-to-peer money transfers without the need of an intermediator like a bank. The key characteristic of cryptocurrencies is the prefix itself—"crypto," as in "cryptography," which refers to the practice and study of techniques for secure communication.
In the case of bitcoin (ARKW), the safety of the system is linked with the bitcoin algorithm, which miners keep solving to generate new coins and maintain the system. This unique feature is paving the way for many other uses that include smart contracts (a key property of ethereum, another popular cryptocurrency), fundraising through ICOs (initial coin offerings).
Article continues below advertisement
Article continues below advertisement
What makes cryptocurrencies unique
The following five characteristics make cryptocurrencies unique:
Secure: The high level of security enabled thorough cryptography makes cryptocurrencies (ARKK) more secure. Monitoring by multiple miners round the clock adds additional protection.
Decentralized: There's no authority watching in the case of cryptocurrencies. They're completely unregulated and can be used by anyone.
Easy: With the power of the Internet and the absence of any central authority, transactions are completed instantaneously and are free (at least for now), comparable with services like those of Visa (V) or Mastercard (MA).
Anonymous: The addresses used in the cryptocurrency world are anonymous and cannot be identified. This was one of the key concerns in the early days, but with more mainstream use, the positives appear (to some) to outweigh the negatives.
Irreversible: The founder of bitcoin cited seller protection as one of the key motivations for developing bitcoin software. This feature has both advantages and disadvantages. If your computer were hacked, for example, and someone stole your bitcoins, there would be no way for you to recover your losses.
Other important characteristics
Apart from the above inherent characteristics, cryptocurrencies have some characteristics that could change the way monetary policy is conducted across the globe. A single bitcoin is valued at more than $7,000 today, and coin owners can exchange their coins for hard cash.
With no interference (or protection) from governments and central banks, monetary policy actions would not have any impact on traditional currencies (UUP). We need to remember that the total supply of bitcoins is limited to 21 million, but at the current rate of mining, the last bitcoin may not be mined until 2140.
In the next part, we'll talk about the avenues one can use to purchase bitcoin.