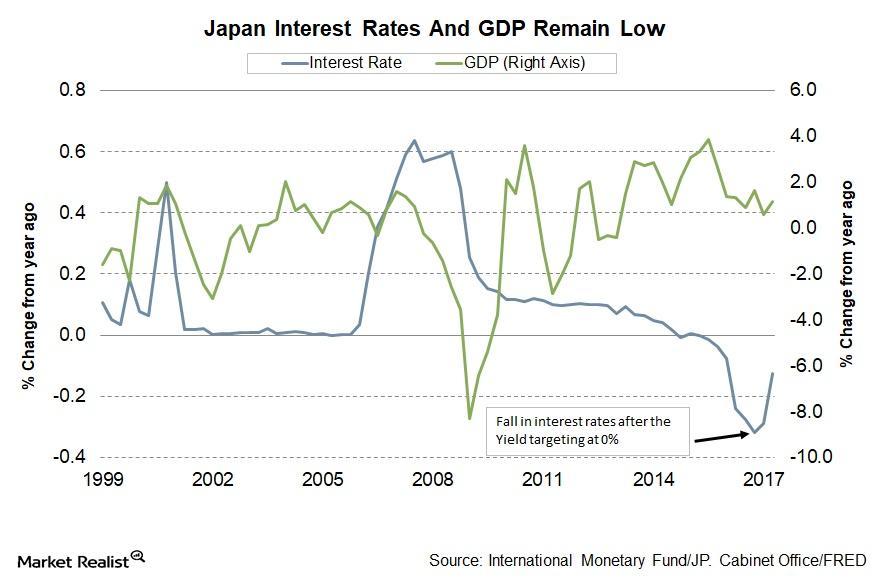 Bank of Japan: No Changes in the October Policy Meeting
No changes in October
At its October policy meeting, the Bank of Japan left its ultra-loose monetary policy unchanged. The decision was made to leave the policy unchanged by an 8-1 majority vote. The yield curve control mechanism will be continued by purchasing Japanese government bonds to maintain the ten-year rate at zero percent. The pace of the purchases will remain unchanged at the current pace of 80 trillion yen. According to the statement released by the Bank of Japan after the October meeting, the bank expects Japan's (JPXN) economic growth to continue at a moderate pace.
Article continues below advertisement
Economic outlook in October
In its economic outlook, the Bank of Japan expects the economy (EWJ) continue its moderate expansion. The household and corporate sectors will likely continue to support the domestic demand, which has been in an uptrend. The domestic demand has been helped by the Bank of Japan's accommodative policies. The Bank of Japan expects steady export growth. The demand from developed and emerging markets is expected to increase.
In its inflation outlook, the Bank of Japan said that wages and spending will take more time to improve. The bank highlighted the fact that Japanese households and corporates are assuming no wage growth at this point. However, inflation remains in an uptrend. The Bank of Japan's 2% inflation target could be achieved in fiscal 2019.
Risks to the economic outlook
According to its October policy statement, the Bank of Japan sees many external risks for its economic outlook. The risks were mentioned clearly in the October policy outlook document.
uncertainty surrounding the economic development overseas
developments in emerging and commodity-exporting economies
debt problems in Europe and the BREXIT negotiations
domestic expectations for medium to long-term growth
declining confidence in fiscal sustainability in the medium to long term
In this series, we'll discuss the inflation trends in Japan, the impact of recent political outcomes in Japan (DXJ), the impact of the October policy statement on Japanese equities (SCJ), and the Japanese yen (FXY).