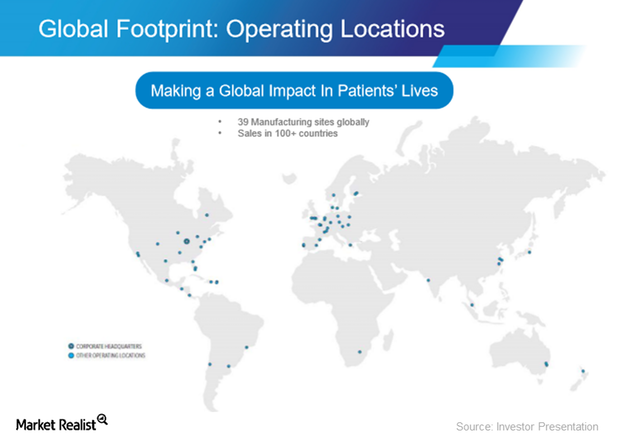 Asia-Pacific Still Zimmer Biomet's Strongest Geography
ZBH's geographic footprints
Zimmer Biomet Holdings has a presence around the globe and is a leading developer and manufacturer of musculoskeletal implants technology. It has a total of 39 manufacturing facilities worldwide. It sells its products in more than 100 countries. In 3Q17, its sales fell 0.4% in the Europe, Middle East, and Africa region on a constant currency basis. Its US sales fell 3% on a constant currency basis. However, in the Asia-Pacific region, ZBH reported sales growth of 5.2% on a constant currency basis.
Article continues below advertisement
Asia-Pacific performance drivers
Zimmer Biomet Holdings witnessed a strong performance in its Asia-Pacific region. It contributed 16% to the company's total sales compared to a 63% contribution from US sales and 21% from Europe. Asia-Pacific sales of $295 million had a positive impact of 2.8% on favorable foreign currency. The company's knee sales in the Asia-Pacific region rose 3.9%, while its hip sales rose 6.1% on a constant currency basis. The company's strong Asia-Pacific sales performance came despite pricing cuts in India for knee implants. However, operating profits in Asia-Pacific fell in the quarter.
Zimmer Biomet Holdings is the leader in the Asia-Pacific orthopedic joint replacement device market, followed by Stryker (SYK), DePuy Synthes (a subsidiary of Johnson & Johnson (JNJ)), and Smith & Nephew (SNN). For exposure to Zimmer Biomet Holdings, conservative investors looking to diversify company-specific risks can consider investing in the iShares Russell Mid-Cap (IWR), which has 0.34% of its total portfolio holdings in ZBH.
Next, let's look at the company's operational plans for the revival of its sales growth going forward.