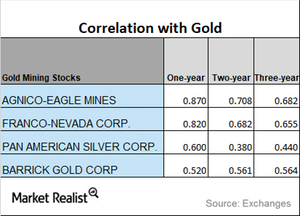 Analyzing Trends in Mining Stocks' Correlation
Correlation analysis
Gold remains the most dominant among the four precious metals. It's crucial that investors analyze how the miners are moving versus precious metals. In this article, we'll look at the performance of a few selected miners and their correlation to gold.
Below, we'll assess Agnico-Eagle Mines (AEM), Franco-Nevada (FNV), Pan American Silver (PAAS), and Barrick Gold (ABX) and their correlations to gold.
Among the mining funds that have a strong correlation with gold are the SPDR S&P Metals and Mining (XME) fund and the iShares MSCI Global Gold Miners (RING) fund. These two funds have risen 1% and 0.61%, respectively, on Tuesday.
Article continues below advertisement
Trend reading
If we look at the one-year correlation of miners, we find that Barrick Gold has the lowest correlation with gold while Agnico has the highest.
Among the four miners we're analyzing, Agnico and Franco-Nevada have seen upward trends in correlation with gold. Agnico's correlation has risen from a three-year correlation of 0.68 to a one-year correlation of 0.87. Barrick Gold has seen a downward trend in its correlation with gold over the past three years.
A rise in correlation suggests that price changes in gold should play a role in mining stocks.
A correlation of 0.87 suggests that in the past year, Agnico-Eagle has been taking cues from gold ~87% of the time. It means a rise in gold leads to an increase in Agnico-Eagle ~87% of the time.