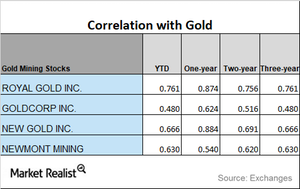 Analyzing the Correlation of Mining Stocks to Gold
Mining stocks' correlations
Most of the time, the performances of mining stocks follow precious metals. However, they can deviate. Correlational analysis can give investors some perspective of how mining stocks relate to gold and silver. In this part of our series, we'll compare Buenaventura Mining (BVN), AngloGold Ashanti (AU), Hecla Mining (HL), and Kinross Gold (KGC).
Article continues below advertisement
Correlation trends
Among the four miners we're examining, AngloGold Ashanti has had the lowest correlation with gold this year, while Kinross Gold has had the highest correlation with gold.
All four mining stocks have seen their correlations to gold rise over the past three years.
Kinross Gold's correlation has risen from a three-year correlation of 0.69 to a one-year correlation of 0.77. A correlation of 0.77 suggests that Kinross has moved in the same direction as gold ~77% of the time during the past year. A correlation of 0.77 indicates that about 77% of the time, Kinross has moved in the direction of gold during the last year.
A correlation analysis is crucial because it can help us determine whether the stock could or could not be influenced by the changes in gold.