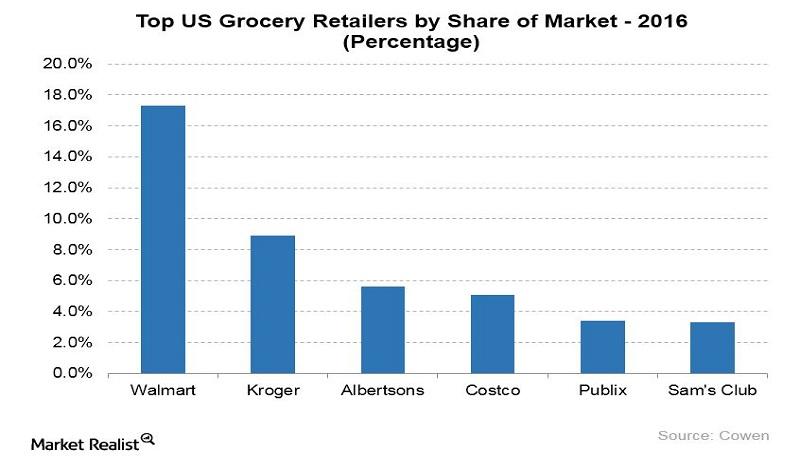 Amazon: Tracing the Impact of Whole Foods
Whole Foods contributed positively to top line
Amazon (AMZN) officially became the owner of Whole Foods Market on August 28, so 3Q17 was Amazon's first quarterly report since closing the $13.7 billion transaction. An analysis of Amazon's 3Q17 earnings shows that Whole Foods contributed positively to its revenue and profitability.
Of the $43.7 billion in revenues that Amazon recorded in 3Q17, Whole Foods contributed $1.3 billion. Whole Foods accounted for nearly 3.0% of Amazon's top line in the latest quarter.
Article continues below advertisement
Whole Foods supplied 6.1% of operating profit
Amazon's revenues grew 34.0% YoY (year-over-year) in 3Q17. Without the contribution from Whole Foods and a favorable impact from currency translation, Amazon's revenues would only have increased 29.0% YoY.
Of the $347.0 million in operating profit that Amazon reported in 3Q17, $21 million (6.1%) came from Whole Foods.
In 4Q17, Amazon expects its top line to grow 28.0%–38.0% YoY, with Whole Foods contributing about 10.0% of the top-line growth.
Gaining a foothold in the $700 billion grocery market
Amazon's surprise acquisition of Whole Foods was viewed as part of its efforts to gain a stronger foothold in the $700 billion US (SPY) grocery market.
According to research and financial services firm Cowen and Company, the US grocery market is dominated by traditional retailers such as Walmart (WMT), Kroger (KR), Albertsons, and Costco (COST). Amazon is trying to challenge these grocery incumbents.
Amazon's 34.0% YoY top-line growth in 3Q17 compared with the top-line growth of 15.8%, 3.9%, and 2.1% for Costco, Kroger, and Walmart, respectively, in their last quarterly reports.