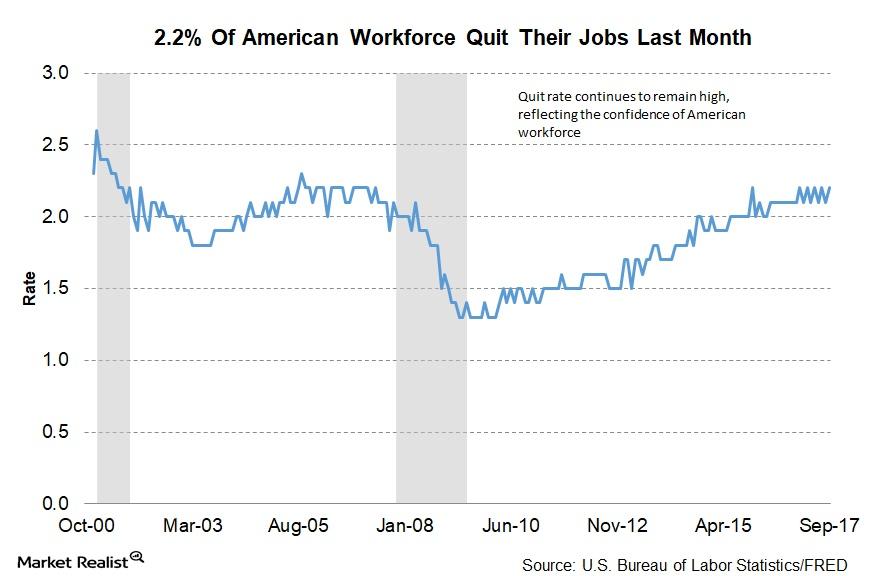 3.2 Million Americans Quit Their Jobs in September
3.2 million Americans quit their jobs in September 
As per the latest JOLTS report, about 3.2 million American workers quit their jobs voluntarily in September. The quit rate for September was 2.2% of the total US workforce. The monthly JOLTS report is categorized into two major sections, number of hires and separations. Separations include the number of people who quit, were laid off, or were discharged from their duties.
The total number of people who quit is important, as employees generally quit only when the chances of finding another job are high. Sudden changes in the number of quits or layoffs can be seen as red flags for a sector.
Article continues below advertisement
What does the September quit rate indicate? 
The quit rate in the American workforce remains at a historical high. More employees are voluntarily quitting their jobs as the US economy continues to improve. In September, professional and business services have witnessed the highest number of quits at 82,000, followed by state and local government staff at 10,000. Growing confidence of employees in professional and business services can be considered a positive sign for the economy. Demand for professional services (XSW) improves when businesses are thriving, and higher demand for workforce builds the confidence of employees in the sector.
The JOLTS report also segregates data based on location. The four regions are the Northeast, South, Midwest, and West. The Midwest has seen the highest change in quits from 2.1% in August to 2.3% in September.
Which sectors have seen most layoffs?
The JOLTS report also reports the number of layoffs in the US economy. For September, there were 1.7 million layoffs and discharges, 1.2% of the workforce. There was no change in the month-over-month number, but there was a notable fall in layoffs within the wholesale trade (XLP) and mining (XME) and logging (WOOD) industries, which is a sign that the employment market is picking up after the September fall.
Thus, the employment market in the US remains robust, and the September JOLTS report adds to this optimism. The improving jobs market could help the US Fed continue with its plans to normalize monetary policy by gradually increasing interest rates (BND) and reducing the size of its balance sheet.