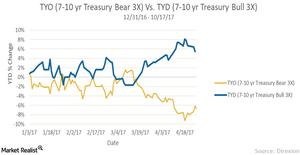 Will Tax Cuts Bump Up Treasury Yields?
Direxion
Treasurys waning
Since early September, US ten-year and longer-dated paper has been falling. Rates for the US government ten-year bond jumped from 2.04% on September 7 all the way to 2.36% on October 10. The move in rates is probably threefold. First, the move has a lot to do with Republicans' proposed tax plan that massively cuts corporate tax rates and greatly benefits high earners. Enthusiasm for the plan sent rates up as investors expected higher growth and inflation going forward. Second, the Fed continues to talk up inflation and rates. Third, economic and inflation data have improved in the September–October timeline. Due to overall higher expectations for growth and inflation, rates rose and Treasury dropped. Note that oil's recent rise also helps inflation expectations grow. Direxion's TYD (3x 7-10 Year Bull) Treasury shares have dropped 7% in that same period before a slight bounce back.
So will oil stay up? Will the tax plan go through? Is growth really on an upward trajectory? Either way, Direxion has your back with TYO (3x 7-10 Year Bear) or TYD (3x 7-10 Year Bull) Treasury shares.
Source: Bloomberg. Past performance does not guarantee future results.
Article continues below advertisement
The performance data quoted represents past performance. Past performance does not guarantee future results. The investment return and principal value of an investment will fluctuate. An investor's shares, when redeemed, may be worth more or less than their original cost. Current performance may be lower or higher than the performance quoted. Returns for performance under one year are cumulative, not annualized. For the most recent month-end performance, please visit direxioninvestments.com.
Market Realist
What's influencing Treasury yields?
The yield on government bonds (TYO)(TYD), which moves inversely to prices, has been falling this year. Benchmark ten-year Treasury notes' (IEF) yield fell from 2.45% on December 30, 2016, to 2.38% currently while the 30-year bonds' (TLT) yield fell from 3.06% to 2.89% during the same period. US government debt yields (SHY) were lower even as investors worried over the growing geopolitical tensions around the world flocked to the fixed-income market. Investors have been pouring money into bonds this year as major central banks around the world are continuing to raise rates.
Yields are rising again
After falling to a yearly low in early September, bond yields have started rising again on hopes that President Trump's planned tax cuts, huge infrastructure spending and other pro-business measures would push up the growth and inflation that have been languishing far below the Fed's target rate of 2%. Officials with the Trump administration estimate that the proposed tax cuts would push up average economic growth to 3% in the next few years, compared to 2% in the recent past. It's interesting to see when the tax cuts could pass and how much they could impact overall economic growth.
Against this background, yields are likely to edge higher in the near future, though rising geopolitical concerns could outweigh the gains.