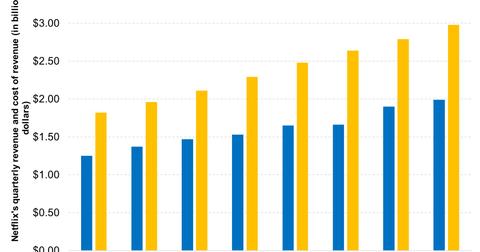 Why Netflix Plans to Spend Billions on Original Content
By Sanmit Amin

Oct. 20 2017, Updated 6:40 a.m. ET
Netflix faces stiff competition in video streaming
Netflix (NFLX) has been spending on original content. The company faces stiff competition from Amazon (AMZN), Hulu, Apple (AAPL), and Facebook (FB), which are earmarking billions of dollars to showcase their original content.
Netflix already features popular original programs like The Clown, Master of None, and Stranger Things. Netflix's programs won 20 Emmy awards this year.
Major studios like Disney (DIS) will soon be streaming their movies and shows. Disney noted that it plans to pull its movies away from Netflix from 2019 and showing them on its streaming service instead. This means Netflix would have to rely on its original content.
Article continues below advertisement
Netflix to spend $8 billion on original content
Netflix noted that it would spend $8 billion on original content in 2018. According to the Wall Street Journal, Netflix reported $17 billion on streaming content obligations, which gauge the current and future costs for content acquisition, licensing, and production.
Original content, especially high-quality content, is expensive. The chart above compares the cost of revenue to Netflix's revenues since 4Q15. However, the cost of revenue would include more than just expenditure on original content.
The cost of revenue is increasing as a percentage of revenues. Spending on quality original content could help Netflix hold its own against the competition.