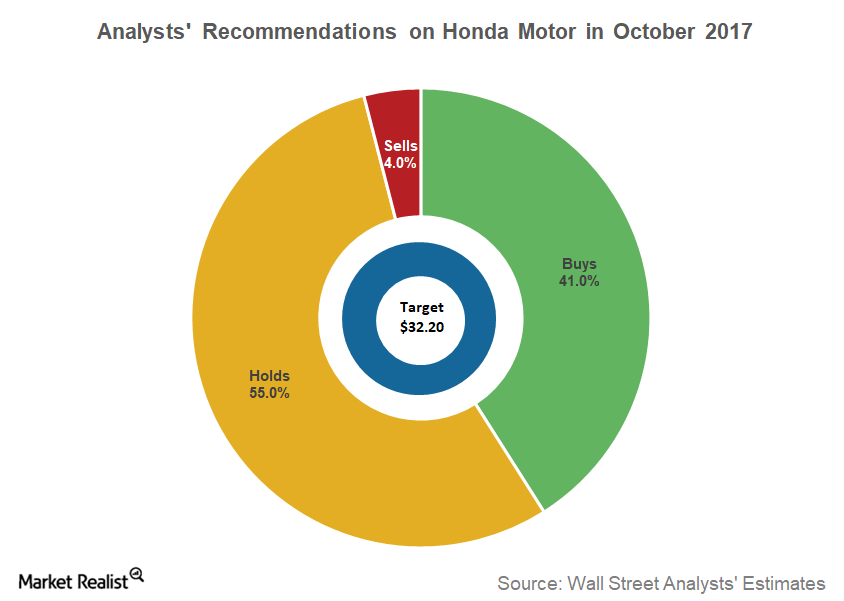 What Do Analysts Recommend for Honda Motor in October 2017?
Analysts on Honda Motor
According to analysts' consensus data, 41% of the 22 analysts covering Honda Motor Company (HMC) gave it a "buy" recommendation on October 11. Another 55% of analysts suggested a "hold," while the remaining 4% gave a "sell" recommendation.
Article continues below advertisement
Article continues below advertisement
Upside potential for next 12 months
On October 11, analysts' 12-month consensus target price for Honda's ADR (American Depository Receipt) was $32.2. This consensus target price suggested a positive return potential of about 6.2% on NYSE from its market price of $30.31.
Note that Honda Motor Company isn't directly listed on any stock exchange in the US market, but Honda's ADR is traded on NYSE just like Toyota (TM).
Honda's 12-month price target has risen in the last two months from $30.64 to $32.2 unlike in the case of its peer Toyota.
Positive US sales in September
Analysts' ratings on Honda Motor suggested optimism, as it had much higher upside potential than its Japanese counterpart Toyota for the next 12 months. In fiscal 1Q18, Honda's net profitability improved significantly, as it reported about a 19% YoY (year-over-year) rise in its net profits for the quarter.
In September, the company reported a YoY rise of about 6.8% in its US market sales just like other US automakers (VCR) including Ford (F) and General Motors (GM).
Honda's US truck segment sales have risen 3.2% YoY in the first nine months of 2017. This strong truck sales growth could keep optimism alive among investors. In general, heavyweight vehicles such as trucks and utility vehicles tend to yield higher margins for auto companies as compared to cars.
Continue to the next part to learn what analysts are recommending for Ferrari in October 2017.